10 ways to prevent identity theft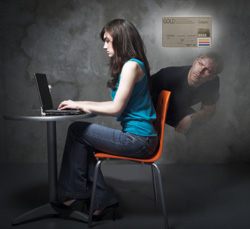 There are steps you can take to reduce your chances of falling prey to identity theft. Technologies such as the home computer and the ATM have made accessing our money very easy and convenient. Unfortunately, technology has allowed theft of our identity and money that much easier, too.
In Canada in 2003, there were about 35,000 cases of identity theft, says Jim Gaston, a Canadian chartered accountant and author of "Protecting Your Money, Privacy & Identity from Theft, Loss & Misuse: Practical Steps for Today's World," on the Chartered Accountants of Canada Website. That figure is expected to grow by 50 percent annually, he says.
How do we prevent identity theft? "All it takes is knowing your rights, knowing when you can challenge requests for personal information, and accepting a little inconvenience to reduce the chance of your becoming a victim," Gaston writes.
Here are some steps you can take to reduce your chances of falling prey to identity theft:
1. Review your computer security. Before you use a credit card online, make sure you have a working firewall and antivirus software. If you use a WiFi connection, see how far it transmits. Some identity thieves drive around hoping to pick up a wireless signal by parking in front of someone's house, and use it to log on to that person's computer.
2. Choose good passwords and PIN numbers. Avoid using your mother's maiden name for security questions or your birthday or license plate number for credit card PIN numbers. Change your passwords regularly, especially after your antivirus software reports a virus on your computer.
3. Beware of phone solicitors. If one asks for personal information such as credit card numbers, hang up. Never give away any personal information over the phone unless you initiated the call. Even then, be wary.
4. Investigate companies before you make a purchase online or over the phone. It is easy to e-mail or call your local Better Business Bureau to see if anyone has complained about a particular business.
5. Remove personal information from your trash. Never throw away any paperwork that contains personal information such as credit card numbers by placing it in a curbside trash can. Instead, shred it or dispose of it in another way. Have your computer's hard drive erased or removed and destroyed before you get rid of it.
6. Watch your local news. Whenever a scam is reported in your area, you can learn about it on your local news and take the necessary precautions to protect yourself.
7. Streamline your wallet. Remove any credit cards you are not intending to use and leave them in a secure place at home. Don't carry your social insurance card in your wallet, either.
8. Destroy any old credit cards you do not use anymore.
9. Use a fraud- and theft-protected credit card.
10. Regularly check your credit card statements. Look for purchases you didn't make and keep all your receipts so you can prove which purchases you did make.
Article written by Christopher Ibotrain
Updated July 10, 2009
Most recent Legal, regulatory, privacy Stories