Study: 4 trends that are reshaping Canadians' spending habits
Canadians aren't spending the way they used to. According to a January 2011 study released by American Express, Canadians are demanding greater value for their money. As a result, consumers are moving away from impulse shopping and instead seeking out items that reflect their personal ethics -- from nurturing the environment to supporting local economies.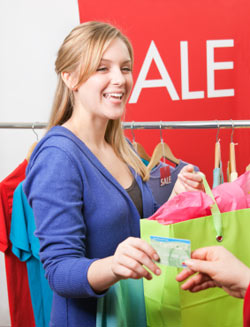 The report, "American Express: Consumer Spending Futures: The New Era of Pause and Purchase," identifies four key consumer spending trends that have emerged and are prompting a significant change in how Canadian consumers are spending their hard-earned dollars. Anthony Stokan, a Toronto retail consultant and a partner at Anthony Russell and Associates who helped with the research, puts these trends into proper perspective.
1. SLEDS (Supporting Local Economies Through Direct Spending)
There's no place like home, especially when it comes to shopping. The American Express study reveals that 36% of Canadians say they want to be a greater part of the local community and are, therefore, buying from local brands and vendors. And almost half (47%) say the availability of locally sourced or locally made products affects their spending today.
"The allure of farmers markets and locally produced goods allows us to feel good about our spending money," explains Stokan. "Consumers are prepared to pay a little extra for a personal experience. Shopping locally is a small and refreshing connection to the authentic."
2. V-tailing (Value retailing)
Expect quality to trump quantity in the coming years. According to the study, Canadians are shopping less and are choosing products that deliver greater value for their money. In fact, 76% of Canadians describe themselves as cost-conscious and 62% describe themselves as quality-driven.
"Consumers are buying and will continue to buy what they need, not what they want," says Stokan. "This will be the decade of frugal on-line pre-shopping. Buyers are doing their homework when it comes to buying and looking for the best features and looking for retailers that provide 'extra's'. This is the new frugality!"
3. SMUGS (Socially-Mobile Ultra-Green Seniors)
They may not be known for hanging out in shopping mall food courts, but Canada's so-called baby boomers are having a significant impact on the retail sector. That's because Canada's 55 to 64-year-old demographic is seeking out luxury and new experiences. Almost one out of ten (87%) of 55 to 64-year-olds make luxury purchases. And one in three (27%) say 'being free' is essential to their quality of life.
That's not to suggest, however, that Canada's baby boomers are reckless spenders. Rather, Stokan points out that "the average boomer has been through several energy crises and has certainly experienced a couple of economic downturns. Each one is different but the average boomer today is concerned about how many friends and relatives are experiencing downsizing. The majority of consumers over 40 are focusing on paying down their debt and using credit responsibly and this trend will continue through this decade."
4. Re(n)tail
Young consumers aren't as frivolous as they once were. According to American Express' study, consumers aged 18-34 are choosing to downsize and simplify their possessions, experiencing products and services rather than owning them. Almost half (48%) think very carefully about what they buy, whereas 32% think long and hard before spending money.
"The majority of Canadian consumers have always had a focus on being responsible with their money," says Stokan. "But as a result of the global economic meltdown, Canadians are more price sensitive than ever before. In fact, value and relevance of the purchase will be top of mind for a long time to come."
See related: 4 tips for using retail credit cards; Credit card myth: Showing ID at the register
Published March 10, 2011
Most recent Shopping Stories