4 ways to get your wallet ready for vacation
By the time vacation finally arrives, it's tempting to just head for the door with a sigh of relief. Between booking travel, arranging for pet or house care in your absence and making sure you've got everything you need, it's easy to forget that your credit cards also need a little pre-holiday preparation.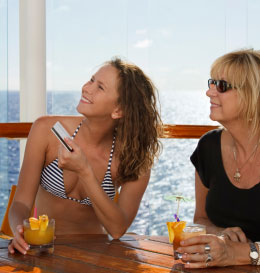 1. Let your bank know you're traveling
One of the most important things to do is let your bank and card issuer know that you'll be traveling, for how long and where. If you suddenly start charging large amounts from an unusual location - typical for many of us while away from home - a credit card issuer's algorithms will pick that up and you might find your card declined...a vacation nightmare.
"While you're at it, make a list of their toll-free hotlines in case of theft and program them in your phone for quick access," suggests Erin Sufrin, a spokesman for Visa Canada.
And don't forget, while you're away the bills keep coming. It's easy to forget to make a payment, which can be costly. An easy fix is to set up automatic payments through your bank or credit card.
2. Plan for the unexpected
Plan for those less-than-amusing holiday surprises. "Credit cards get lost. Flights get delayed. Storms arrive unexpectedly," warns Sufrin. "Keep unknowns in mind when planning your trip, and set aside an extra 10 to 15 per cent of your travel budget for emergencies or surprises."
It's always helpful to know the benefits and features on your card like roadside assistance, discounts and privileged access so that you can leverage them.
For assistance, Practical Money Skills for Life, a free personal financial management site sponsored by Visa, features an interactive Travel Calculator, which helps you prepare a travel budget for transportation, meals, hotels, entertainment and other vacation expenses. It helps you decide between necessary and flexible expenses and allows you to make budget adjustments before it's too late.
3. Secure your money and information
Pack your pocketbook lightly, Sufrin suggests. "Streamline your wallet. It's never wise to carry too much information - or cash - in your wallet, but that's especially true when traveling. Bring two credit or debit cards, in case one inadvertently gets damaged or deactivated by the card issuer because of suspected fraud, but leave the rest at home."
Travel with copies (or photos) of important documents and identification in a secure and safe place. Do this with every bank and credit card as well. Also consider ensuring that your spouse or partner is registered as an authorized person on their account. This ensures fast servicing if the primary cardholder is not available.
4. Research your destination
Although many of us now assume credit cards are accepted everywhere, credit card use still is rare in some countries. If you're traveling abroad, research your destination and consider bringing along some travelers cheques as a secure alternative to carrying cash. These cheques are also the one sure way to avoid foreign transaction fees, which can really take a bite.
See related: 10 things to look for in a credit card for international travel; How travellers maximise rewards card deals
Published July 17, 2012
Most recent Credit Account Management Stories