5 credit card statement tricks and traps
Many time-pressed Canadians automatically file away their credit card statements each month, paying little or no attention to statement content. This habit can be costly, since statements may contain errors both of omission and commission.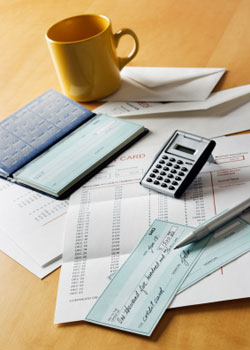 From April 1, 2011 to January 31, 2013, the Financial Consumer Agency of Canada received 1,569 complaints about credit cards in general. Many grievances over that 22-month timespan concerned interest charges, minimum payments and credit balances.
Julie Hauser, FCAC's media relations officer, adds that 51 of the credit card complaints were linked to statements.
According to consumer issues troubleshooter Ellen Roseman, financial institutions were forced to change their credit card statements after the global financial crisis. Effective September 1, 2010, new regulations came into effect requiring that card statements specify:
Advance notice of any interest rate increase, even if it's spelled out in the contract; and
Time needed to repay account balances based on minimum payments.
Nevertheless, the following areas of potential frustration and confusion still persist on statements.
1. Unreadable wording
In the publication "Not-so-easy-to-read account statements" from Montreal-based group Option consommateurs, author Maryse Guénette reveals that 42 per cent of Canadians have low literacy skills and therefore experience difficulty understanding information on their credit card statements.
But even highly educated readers can struggle with the tiny font size on some statements. Legalese on the back of a President's Choice Financial MasterCard statement is in 7-point type, while the faded light-gray text on a TD Visa statement's reverse side is 8 points. In contrast, Health Canada recommends a minimum 9-point font on drug labels to ensure legibility.
2. Partial payments but full interest
Many consumers assume that card interest is only charged on unpaid balances. In reality, cardholders who fail to repay the entire statement amount by its due date -- even if they're only 50 cents short -- waive their rights to the usual 21-day interest free grace period.
Exactly how and when you'll be charged depends on your card agreement. Some banks use the average daily balance method to calculate interest charges. That means the account's average daily outstanding amount is multiplied by the daily interest rate and then by the number of days in the billing period. Other card issuers use the daily balance method, meaning they take the actual balance you owe at the end of each day and multiply it by the daily interest rate, and then add all those calculations together at the end of the month.
Regardless of which method the card issuer adopts, most statements fail to explain the interest penalty for partial payments.
Finance expert Gail Vaz-Oxlade provides an example where you pay $900 on a $1,000 balance before the statement deadline but have to pay interest on the full $1,000, not the $100 remaining. The interest charge is calculated from the first day of the billing period.
3. Undisclosed disclosure box
Legislation effective Jan. 1, 2010 compels financial institutions to present interest rates, fees and penalties in an information box at the top of credit card applications and cardholder agreements. Those rules do not apply to statements, however.
Most credit card statements do mention the standard, promotional and cash advance APRs, but not specific fee and penalty amounts until they are actually incurred. None of the eight statements reviewed for this article referred to the legally required disclosure boxes on the application and cardholder agreement -- an omission that can lead to consumers making uninformed credit card decisions.
4. Penalties on unpaid disputed transactions
Many statements include a small-print proviso advising consumers to report errors or other disputed amounts within 30 or 60 days of the statement date. What they don't mention is the fact that cardholders may be charged interest and penalties if they fail to pay the statement amounts in question. This applies even if a refund or correction has already been approved.
Until the disputed charges have been physically credited on their accounts, cardholders should treat the contested transactions as payable. For example, fine print on the PC Financial MasterCard statement reads, "Credits will not be treated like a payment made by you, and do not count towards your minimum payment due or towards payment in full of your statement balance."
5. Just how is your debt paid down?
Another detail typically in cardholder agreements, but not on some statements, is how a card company applies your payments to outstanding amounts. The September 1, 2010 regulations permit two methods for distributing payment amounts beyond the monthly minimum:
First to the balances with the highest interest rate; or
Proportionately to each type of balance (such as for cash advances, balance transfers or purchases).
Consider an account with an outstanding $2,000 cash advance and a $500 purchase balance at a lower APR, for a total balance of $2,500. If the card company uses the proportioning method, it will apply 80 per cent of the payment to the cash advance balance, and 20 per cent to the purchase balance. That's an unpleasant surprise for cardholders who assume that their $2,000 payment will extinguish the costlier cash advance balance. Instead, $400 in higher-interest cash advance debt remains, since only $1,600 goes toward the $2,000 advance.
What to do about statement complaints
When asked about consumer frustrations with incorrect, incomprehensible or misleading statements, FCAC spokesperson Julie Hauser explained that Canadian consumer protection laws obligate all federally regulated financial institutions to maintain a complaint-handling process.
"If consumers feel that their federally regulated financial institution did not provide the required information to them, then they should make use of their financial institution's complaint-handling process and contact the FCAC," adds Hauser. "FCAC can [then] investigate the complaint to determine whether the financial institution has complied with its legal commitments."
See related: Making sense of your credit card statement; New Canadian credit card regulations unveiled
Updated February 21, 2013
Most recent Credit Account Management Stories