6 insights about authorization holds
Serge Djina was staying at a Holiday Inn in Toronto when major floods caused power outages throughout the province. He tried relocating to a Holiday Inn whose power was still on, only to have his card declined at the second hotel's check-in because the first hotel had put a $2,000 hold on his card, helping to max it out.
Djina had experienced firsthand the power of the authorization hold.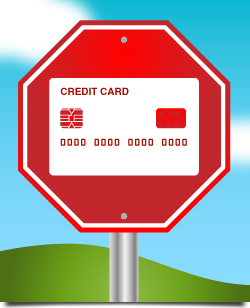 Certain retailers will impose holds on your credit card -- sometimes up to thousands of dollars. These holds can restrict your credit card's buying power more severely than you might expect. Knowing the facts about holds can help avoid stress when you need credit the most.
Also called pre-authorizations, they are used by hotels, restaurants, gas stations, car rental firms and travel agencies.
"The money reserved for a hold ensures that your card has enough credit so you can cover total charges when your final bill is tallied," says Natasha Nystrom, spokesperson for the Financial Consumer Agency of Canada (FCAC).
But in the case of Djina, his $5,000 limit was maxed out because two hotels wanted to put sizable holds on his card. We asked experts six questions to make sure you don't have a similar experience.
1. How do you know if a retailer has placed a hold?
You may be able to see authorization holds by checking your online credit card account. However, not all credit cards offer this facility, in which case you can call the client services number on the back of your credit card and ask about any holds in effect.
2. How much is the hold amount?
Although consumers often blame credit card companies, merchants directly determine hold amounts -- and authorization amounts are unregulated.
"A merchant pre-authorizes the amount required to ensure they will be able to successfully complete the sale once the services have been rendered," TD spokesperson Jeff Meerman wrote in an email.
CTV News reported credit card holds as high as $150 for a $20 gas purchase at an Ottawa automated gas station. Among four Toronto hotels polled for this article, reservation agents quoted hold amounts ranging from $50 to $100 per day for incidentals, plus full room charges, including taxes.
Meerman says some retailers allow consumers to choose their authorization amount while other merchants specify a default value. You can ask the merchant what your options are before you hand over your card.
3. How long does a hold last?
While there is no regulation governing the amount retailers can pre-authorize, consumers are protected against indefinite hold periods.
Meerman says there are operating regulations that dictate how long a pre-authorization will be valid. The regulations also define the maximum time after which a card issuer should remove a hold if the merchant has not yet done so.
In addition, card network providers have set rules on how long credit card companies can maintain a hold after the merchant processes a final payment. For example, Visa Canada guidelines state that holds can linger for up to five days after the credit card company posts the purchase amount to your account.
4. Are there possible penalties?
About two-thirds of the 251 cards listed by the FCAC credit card selector tool impose over-the-limit fees --ranging from $10 to $30 -- for each month your account's maximum is breached. However, the authorized holds are not counted as actual charges in determining whether maxed-out penalties apply, as explained in the FCAC publication Understanding Credit Card Fees.
"By law, federally regulated financial institutions cannot charge over-the-limit fees directly caused by temporary holds," says Nystrom.
Some credit cards have strictly enforced account limits and automatically decline any amount that exceeds those limits. These include an automatic biller that draws from a credit card account but is rejected due to insufficient available credit caused by an authorized hold. This can lead to steep late payment penalties from the billing companies.
5. Can consumers cancel holds?
In most cases, credit card companies will only remove pre-authorized holds after the merchant calls them on the consumer's behalf. Djina says the manager at the original Holiday Inn where he stayed eventually called the credit card company and had the hold removed.
It's a different story after final charges are posted to the cardholder's account. Visa Canada media relations says that once the credit card company posts the purchase, consumers can contact their financial institution and ask that the hold against available credit be released.
6. Where can consumers complain?
The federal government regulates credit card holds. Because the FCAC doesn't regulate private companies that are not federally regulated financial institutions, Nystrom says that consumers should contact the merchant directly to determine whether it has a formal complaint-handling process to address their hold concerns.
For authorization disputes involving credit card companies, Nystrom says consumers should file a complaint with their financial institution, abiding by its complaint-handling process. The FCAC has a complaint-handling process search tool to help consumers find the complaint procedures for their specific financial institution.
"That being said, if a consumer believes that their financial institution is not following the prescribed regulations, they are encouraged to contact the FCAC with more details so that we may look into the matter further," says Nystrom.
See related:
Why we pay card fees -- and how to avoid them
;
5 credit card statement tricks and traps
Updated August 25, 2015
Most recent All credit card news Stories