6 ways cardholders can save on vacations
When you're on vacation, it can be easy to swipe your credit card for an extra cocktail or expensive dinner. Even otherwise frugal consumers are in a different frame of mind while on vacation. But no matter what kind of daily spender you are, keeping a rein on credit card spending during your holiday will help you avoid post-vacation blues.
"Just because we need to use credit cards to book a hotel room doesn't mean that we have to use them every time we buy a drink at the beach," says Jeffrey Schwartz, executive director at Consolidated Credit Counseling Services of Canada.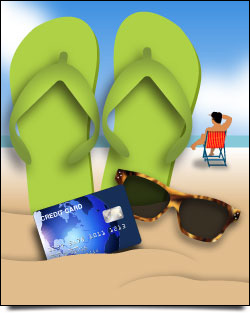 Here are six savvy savings strategies to help ensure you can clear your credit card balances at the end of a holiday getaway.
1. Plan your travel around a budget, not an itinerary. Instead of exclusively focusing on an exciting sightseeing schedule, chartered accountant and financial literacy author Robin Taub tells her clients to first create a detailed budget that tracks all travel-related costs, including transportation, hotels, meals, entertainment and shopping.
Then, go through each budget item and ask yourself, "Is this worthwhile for me to spend at this time, given my overall goals and financial situation -- even if I'm on vacation?"
Some card companies provide free tools for building customized travel budgets and email alerts triggered when you exceed spending category limits. Examples of these budget-making tools include BMO's MoneyLogic, CIBC's CreditSmart and RBC's myFinanceTracker.
2. Don't shy away from your card company. Going to another country without telling your card company could cause the company to block your account as a fraud security measure. Blocked card accounts can result in rejected bill payments, which can cost you late fees.
RBC spokesperson Lena Wan says to avoid late payment penalties, ensure your email and mobile phone contact information is up-to-date in case the card issuer needs to reach you while you are travelling.
Automating your credit card bill payments and letting your company know you'll be out of town can also shield you from additional expenses when you are away. Schwartz says he once forgot to make his credit card payments while on a trip and consequently racked up whopping interest charges. But because he had advised his card company in advance about his travel plans, the card issuer treated his late payment as a one-off oversight and waived the interest expenses.
3. Use as many reward schemes as possible. You can choose from a comprehensive set of credit card rewards that cover virtually every vacation-related expense. Many rewards credit cards, including American Express, CIBC Aventura and RBC Avion Infinite allow you to use rewards for flights, hotels, car rentals or vacation packages. You may also be able to use rewards for travel accessories, such as luggage, travel-friendly tablets and noise-cancelling headphones. Finally, your rewards could grant you experiences, such as spa treatments, waterparks or other family entertainment.
If your card earns you cashback rather than rewards, you can directly apply any cash you've earned toward your balances when you get home. Some rewards programs allow you to apply points directly toward travel expenses.
4. Do-it-yourself savings research. You can uncover further savings opportunities by researching special travel promotions, discounts and perks. Most card issuers have live online chat services, or you can telephone their customer service department and ask about available vacation-related offers.
The Financial Consumer Agency of Canada's Credit Card Selector Tool lists cards and their travel benefits, including medical insurance. Be sure to find out important details from the cardholder agreement about how long coverage lasts during a trip and any age limitations. Also, pay careful attention to any annual card fees and do a cost-benefit analysis comparing those fees with the cost of buying separate travel coverage plans.
5. Make card security a holiday priority. Having your credit card information stolen during a vacation can lead to extra expenses as you scramble to mitigate fallout from the card theft.
"One has to be prudent with credit card use in foreign countries since there are a lot of regions where vendors and merchants should not be trusted to safeguard credit card information," advises Gabor Forgacs, an associate professor at Ryerson University Ted Rogers School of Hospitality and Tourism Management.
Because criminals view vacationers as vulnerable targets, Forgacs suggests you always keep credit cards within sight, even if it means accompanying the waiter to a payment processing station. You should also monitor your accounts (yes, even when you're on vacation), keep all receipts and carefully review your statements when you get home to ensure all transactions are valid.
6. Consider restricting your card limit. If self-discipline is an issue, one strategy that forces you to restrain your travel-related spending is a reduced credit card maximum.
"I know we're always fighting to have the highest limit, but if you've cleared off your balance and know you're going on a trip and have budgeted a certain amount, maybe take down the limit for the period you are away so you can't go over that amount," says Schwartz.
Another method to resist the temptations of vacation overspending is to travel with a secured credit card. That way, you can set a strict spending limit tied to your security deposit. Secured cards have the same saving features as regular travel rewards cards, including benefits, insurance coverage, discount privileges and other perks.
See related: How to optimize rewards beyond double-dipping: 4 ways to get your wallet ready for vacation
Updated June 30, 2015
Most recent All credit card news Stories