6 ways to protect your finances in divorce
No woman wants to walk down the aisle worried that her marriage might fail.
But women who are about to get married - especially those who plan to stay home to raise children and those marrying later in life with significant assets - need to learn how to protect their finances in case of separation or divorce.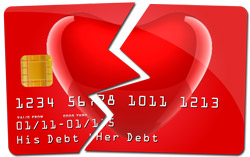 Sharing assets often comes hand-in-hand with getting married. Of those Canadians currently in, or recently in, a relationship, 72% own a home together, 68% have a joint bank account, 64% have a joint financial plan and 52% have a joint credit card, according to TD Canada Trust.
All of these assets would have to get divvied up in the event of a divorce. So while choosing a wedding dress and caterer might be a lot of fun, it's also necessary to schedule in a few hours with a family law practitioner.
Here are six ways for brides-to-be to protect themselves financially:
1. Protect your property
When property is divided in the breakdown of the marriage, there is special treatment of any property deemed to be a matrimonial home if such property was owned on the both the date of marriage and date of separation. The special treatment could be quite detrimental to the owner of the property, and more than one property can be deemed to be a matrimonial home.
"Parties can choose to jointly designate a property as matrimonial home, in which case no other property can be deemed [as such]," says Andrew Chris, a lawyer at Epstein Cole LLP, Canada's largest firm specializing in family law. "The bottom line is, if you own a property coming into a marriage speak to a lawyer about a marriage contract because special rules apply to matrimonial homes," Chris advises.
2. Know your rights
Be aware that any gift or inheritance that you acquire during your marriage does not have to be shared with your spouse as long as it is clearly traceable back to the original source, unless the funds are put into a matrimonial home. For example, if a relative gives you $30,000 and you use it to pay down your mortgage or renovate the matrimonial home, you will lose the exclusion and will have to share the gifted or inherited funds upon the breakdown of the relationship.
Chris suggests clearly classifying a gift as a loan and signing a promissory note that proves the amount, who gave it and when you received it.
3. Update your will
Review and update your will shortly after you are married to ensure it still fully expresses your wishes. Chris says that many women getting married have no idea that their new marital status automatically voids any previous will - unless it is prepared "in contemplation of marriage." If a newlywed woman were to suddenly die without having changed her will, she might leave children or other beneficiaries without previously planned provisions.
"I would say the majority of Canadians wouldn't know this," says Chris.
4. Get your own lawyer
If you do enter into a marriage contract, also known as a pre-nuptial agreement, be sure to have independent counsel, i.e. your own lawyer. Demand full financial disclosure from your new husband and be sure to create and agree to its terms with no undue pressure.
5. Stay calm
"Try to be as rational as possible," says Chris. While division of assets is an emotional issue, focusing on the outcome you want and need is key. Do you want to set up a trust fund for your children? Do you even really need to create a marriage contract?
"Talk to your accountant and your financial advisor about your needs, now and in the future," Chris advises. Having cooler professional heads involved will make sure you don't forget or overlook something crucial.
6. Keep track of your finances
After the wedding, always pay attention to every aspect of your family finances. This is crucial in order to protect your assets. Know what loans and debts your husband has committed to. Stay on top of all credit cards and lines of credit for which you might also be legally responsible.
"Read all of these documents very carefully," says Chris. "Make sure you're involved. Pay the bills. People have come into our offices very surprised at purchases their spouses have made with shared bank accounts or even their own money."
Family law differs province by province, so also be sure to check with a lawyer where you live.
See related: Carmen Wong Ulrich on why we spend; More women taking control of finances
Updated October 2, 2012
Most recent Card Fundamentals Stories