Canadian Tire money may be on its way out
Canadian Tire money has been a part of Canadians' lives since 1958, but the colored bills with the size and texture of real currency is on its way out and will soon be replaced with loyalty cards.
The bills, which come in denominations of five cents to $2, can be applied towards discounts on future Canadian Tire purchases.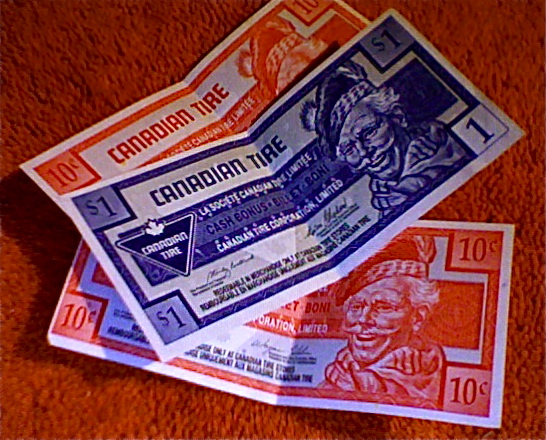 Canadian Tire money, featuring Sandy McTire and his tam o' shanter. Image courtesy of Tomasz Piwowarek via Wikimedia Commons.
Though the bills often end up accumulating in glove boxes or junk drawers, the funny money has become a cultural icon for some.
"It's way more fun to buy beer with than regular money," says Eli Gerskovitch, who in the fall of 2011 began accepting Canadian Tire money as currency at his Rogue Kitchen & WetBar in Vancouver.
Fans of Canadian Tire money tweeted and re-tweeted Gerskovitch's deal into a whole new way to spend money in his restaurant.
"We like to do things a little bit differently," says Gerskovitch, whose 550-seat facility needs regular upkeep and maintenance with the very items - paint, screwdrivers and other tools - that his staff redeems Canadian Tire money for.
"We use every penny of it we get," he says. "We have a big repairs budget, so this actually works well for us." A dozen customers each week pay their tab using the money, and Gerskovitch says he's accepted and redeemed an amount "in the low thousands."
Initially a gimmick to attract customers to the national home repair chain, there's no shortage of this legendary alternate currency distributed from more than 500 Canadian Tire stores. Instead of Prime Ministers or the Queen, the only character on Canadian Tire bills is Sandy McTire, wearing a tam 'o shanter, a distinctively Scottish cap (familiar to students at Queen's University, where every freshman is given one as a welcome gift).
However, Canadian Tire began testing its new loyalty cards in Nova Scotia this year.
"The average Canadian has nine loyalty cards," says Liz Hamilton, a spokeswoman for Canadian Tire in Toronto. "While the money has a place in Canadian hearts, we're hearing that people want a loyalty card from us as well. The real difference is that you'll get more money this way."
According to Hamilton, customers will be able to recoup up to 3 per cent of a purchase's value with new loyalty cards versus the current 0.4 per cent offered with the Canadian Tire bills.
"The paper is wildly popular," Hamilton admits, "but the money tends to get left in people's glove compartments or drawers at home."
See related: Budgeting strategy: spend money on fun; Credit report tracking critical for Canadians
Published June 4, 2012
Most recent Product Features Stories