Coming to terms with student loan debt
For the thousands of college students graduating this spring, the relief and excitement of finally receiving a diploma also means the start of a ticking clock - student loan repayment.
The challenge of repaying loans can be a shock when students realize those payments are due every single month for years to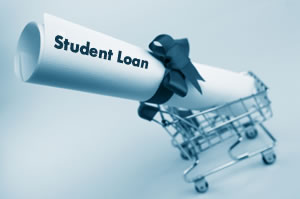 come, says Bridget Casey, blogger at moneyaftergraduation.com.
"They're lost! Students have no idea what $40,000 is in real terms when they've borrowed it and now must pay it back," she says.
As a recruiter for the University of Alberta Department of Engineering, Casey sees many students falling into the trap of thinking their government loans come without a price. "At 17 or 18, you've never had that sort of money. You don't know what it buys or what it takes to earn it. When you get it all at once in a lump sum, of course it makes you feel rich."
Though student loans have to be repaid like any other loan, some student loans -- especially ones offered by the government -- provide low interest rates and defer payments until graduation. Through the Canada Student Loans Program, the federal government offers loans that don't accumulate interest while you are a full-time student.
But just because you aren't making payments or collecting interest while you're in college doesn't mean you can ignore your loans. Students are required to begin re-paying their loans within six months of graduation.
Casey, who's dealing with her own $16,000 in student debt, says she struggled to come to terms with her loans. "It didn't feel like real money to me. It was just a number in my bank account, just one transaction after another," she says.
If you don't have a government student loan, interest can begin to accumulate as soon as you receive funds. Make sure you are aware of repayment terms and if you have multiple loans, keep a spreadsheet to stay on top of different terms and conditions.
If you're having difficulty repaying your loans, you can apply for a Repayment Assistance Plan through the National Student Loans Service Centre. The Repayment Assistance Plan helps borrowers set up affordable plans to pay off loans in 15 years or less. Payments are based on your income and family size and will not exceed 20 percent of a borrower's income. You must apply through the NSLSC, be a resident of Canada, have received your consolidation forms for your loans and be able to prove you are having difficulty. Enrollment is not automatic. Borrowers must submit an application and reapply every six months in order to maintain their eligibility.
Most importantly, recent graduates need to realize that graduating means shouldering a lot more responsibility. Though you probably won't be juggling homework from five different professors anymore, you will have to start paying greater attention to your finances, especially when those student loan bills start coming in.
See related: Teaching college-bound students to avoid credit card debt; Credit report tracking critical for Canadians
Updated May 24, 2012
Most recent Student Stories
5 money lessons -- and apps -- for kids and teens -- It's important to teach kids about money, and it's easy, too, thanks to these online tools and smartphone apps ...
Growing up: Your teen's first credit card -- The idea of giving your teen a credit card may make you shudder, but with proper guidance, plastic can be a great tool in teaching your older children money management skillsThe idea of giving your teen a credit card may make you shudder, but with proper guidance, plastic can be a great tool in teaching your older children money management skills ...
5 credit card no-nos for students -- While credit cards can serve as convenient payment tools or emergency padding, they can quickly turn into high-interest debt traps for students who use them incorrectly. If you're a student with plastic, try these guidelines to avoid regrets later ...