Credit report tracking critical for Canadians
Canadians are getting better at protecting their financial data but need to examine their credit reports more frequently and manage them more carefully, a recent survey shows.
The Financial Consumer Agency of Canada (FCAC) polled 2,002 Canadian adults, examining their knowledge in three key areas: banking rights and responsibilities, responsibilities for accounts and credit reports.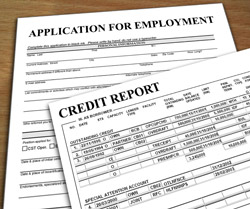 Canadians remain less informed about their credit reports and how to manage crucial financial data. Most -- 90 per cent - didn't know that they could get a credit report free by mail, and 62 per cent didn't know how to dispute an entry in their credit report. In 2006, 51 per cent were ignorant of this fact.
"We can't be certain of the reason for this," says Julie Hauser, a spokesman for the Financial Consumer Agency of Canada, which works to promote financial literacy. "It may be that people don't check their credit reports because they don't know they have one, or because they don't feel the need to check them."
On the positive side, 86 per cent of respondents knew that both joint chequing or savings account holders are responsible for infractions -- an increase from 73 per cent in 2006. Almost three out of four, 72 per cent, knew that the primary credit card holder is on the hook for any charges when a second user is added -- a 9 per cent jump in understanding since 2006.
FCAC uses this information to inform consumers about financial issues and provides information for everything from how to understand your credit report to how to avoid credit card fraud on their website.
A conference last year hosted by the FCAC and the Organization for Economic Co-Operation and Development found that financial literacy levels "are generally low everywhere," Hauser said. "Where countries distinguish themselves is in their efforts to address this problem, and Canada is a leading country in this regard."
Dilip Soman, an economics professor at the University of Toronto says the larger issue is that financial institutions are burying us with a steady stream of new materials to understand and manage. "Every new product comes with a new set of clauses. It's too much to know!" he says. "It's pretty evident that folks in Canada know more about personal finance than folks in America," he says. "They also have better intuitions and numeracy."
Checking your credit score should be a lifelong habit, something as automatic and important as an annual medical checkup. Knowing the condition of your credit report far in advance of trying to obtain a mortgage, for example, is essential to getting the best terms possible. Only by knowing exactly what's in your report and addressing any issues that might lower your score can a potential homebuyer head off problems obtaining a loan.
If a consumer has a poor credit score, the mortgage lender might refuse to approve a mortgage, approve only a lower amount and/or offer a higher interest rate. Some lenders may only consider an application from someone with a low credit score if they can offer a large down payment or have someone to co-sign the mortgage.
See related: How your credit score affects your insurance policy; Making sense of your credit card statement
Updated May 9, 2012
Most recent Research / Statistics Stories