Give back to your community with your credit card
Your credit card can make it just as easy to donate to your community or favorite charity as it is to make impulse buys.
Many credit cards offer a variety of ways to help cardholders direct funds to their favorite charity. For example, some cards direct a small amount of each purchase to a charity, and some donate a certain amount to the charity when the cardholder signs up for the card.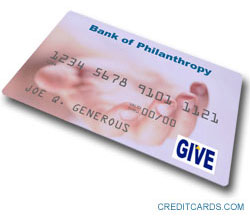 "'Community' credit cards return a percentage of the transactions back to the community, which is brilliant," says R. Brent Lang, director of the Surrey Foundation, a non-profit community organization in British Columbia. Credit unions in British Columbia such as Vancity, Coast Capital and Envision are leaders in credit card programs that benefit charities.
Even if you don't have a charity credit card, you might still be able to use it to support a charity. If you have a rewards card, for example, you might be able to donate your unused miles to a cause that needs them. Loyalty program Aeroplan, for example, allows you to donate the miles you've racked up to charities like War Child Canada and Veterinarians Without Borders through its Beyond Miles Program. Air Miles, meanwhile, has a donation scheme that sends a small donation a charity's way each time the cardholder redeems a certain number of reward points.
In addition to the good feeling that comes with helping others, you can also take advantage of some pretty impressive tax breaks when it comes to giving back -- cash outlays that can easily be tracked and recorded if you use a card to make the donation. In terms of traditional donations, Lang says, the first $200 in a calendar year generally results in a minor tax credit. Amounts beyond this result in a higher tax credit, although rates may vary by province.
Lang cites Habitat for Humanity's ReStore as a way that combines credit card donations with tax breaks. ReStores are building supply stores that sell donated materials. Shoppers can use their credit cards to buy supplies they'd need anyway - and the money goes to Habitat for Humanity's projects. Those who donate the materials, meanwhile, get a tax receipt.
"This is a fine social enterprise, both socially and environmentally conscious," Lang says.
Here are some other ideas for getting involved with your community, with or without a credit card:
Conduct your day-to-day business with local business owners by purchasing homegrown items.
Bank with a credit union, many of which provide services that support community initiatives.
Hire a student for the summerand make a point of mentoring him or her within your area of expertise.
If you're a professional, consider providing pro-bono services to your area's non-profit organizations.
Ask your employer to match donations to causes that are meaningful to the staff.
Support local fundraisers, such as community galas.
Volunteer your time and assistance -- local hospitals, retirement homes, schools and libraries are always in need of a helping hand.
Companies also stand to gain plenty from getting involved in their local community.
"There are ways for professionals to invoice for time and then donate the cheque back to the nonprofit in exchange for a donation receipt," Lang said. "Corporate philanthropy engages and unites employees in a purpose greater than themselves and greater than their company."
See related: 5 ways to safely donate to charity with your credit card; Deciding which credit card is right for you
Published March 30, 2012
Most recent Product Features Stories