Rogers and CIBC launch 'Mobile Wallet'
By year's end, many Canadians will be able to point their cell phones at a card reader in order to pay by credit card. No more swiping. No more signing.
The new initiative was announced recently as a partnership between Rogers Wireless and CIBC. Once the system is up and running -- likely by the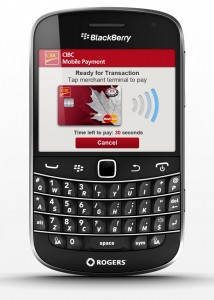 end of 2012 -- shoppers will no longer have to carry their CIBC Mastercard or Visa, but will be able to use their smartphone instead. Using a PIN to access the data, they can point their cellphone at a card reader within the store to make a charge. Users will hear an audible beep when the transaction is complete.
"We believe one day this is going to replace your wallet," says Frank Maduri, head of mobile payments at Research In Motion (makers of the Blackberry). Consumers who own a Blackberry already own the technology required to use the service. Maduri says the system just uses two pieces of technology: a secure place within the phone to store data and a short-range wireless transmitter that can send data over a distance of about four centimetres.
"Canada is one of the most advanced countries for issuing contactless cards," says Maduri. MasterCard presently has 25 million contactless cards already in circulation in Canada.
The initial use will be in drugstores, gas stations, convenience stores, coffee shops and grocery stores.
What if you lose your phone, and thereby your card?
"It's actually better than having a card in your wallet because a card is visible," Maduri says. "A thief can read it easily and start using it." The new technology however would require one or two PINs to access. "I think you'll have more protection this way," he says.
Response to the bank's other mobile apps was so immediate and widespread the bank decided to make this new technology available to its credit card holders.
"I think Canadians are viewing this as another tool," said Bruce Cran, president of the Consumers' Association of Canada. "We've already got tap-and-go cards. I think Canadians will give it a good try."
Canadians also rely heavily on loyalty rewards, which the new system will credit just as traditional plastic cards have always done. CIBC was the first Canadian bank to offer a mobile app in 2010 and mobile stock trading in 2011.
See related: Chip technology: A win-lose proposition?; How to stop cyber crooks in their tracks
Updated November 11, 2014
Most recent Product Features Stories