A look back -- and forward -- at Canadians' money habits
Canadians may have packed on the pounds over the holidays but they're more concerned with increasing their savings than cutting back on calories in the new year. In a December 2011 poll from Investors Group, 63 per cent of respondents said saving money this year was more important than losing weight (27 per cent).
Fortunately, the start of a new year is a perfect time to get a better handle on your savings habits.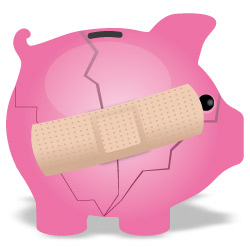 "Looking back at your spending habits over the past year can help you to see where you may need to make cuts and the savings that you could have acquired instead," says Jack Courtney, assistant vice-president of advanced financial planning at Investors Group. "Saving should be part of your overall financial plan, and any financial plan should be revisited regularly and adjusted as your goals and lifestyle change."
The good news is many Canadians are already on the right track. The Investors Group poll asked respondents to look back at the decisions they made in 2011. The majority said the best decision they made had to do with their personal life (57 per cent). A decision about work was rated best by 22 per cent of respondents, and 13 per cent cited a money decision as their best of 2011.
Personal and financial decisions might not appear to be connected. But the resolution mindset that comes with the new year can inspire all kinds of positive changes.
"While most Canadians don't make concrete resolutions on an annual basis, the turn of a new year is the perfect time to decide on changes you would like to make in the year ahead," Courtney says. "The idea of a New Year's resolution offers people a way to reflect on the year that's just past and set goals for the next."
Nevertheless, there are a few financial lessons Canadians could stand to learn. For starters, paying down debt and investing money fell further down Canadians' resolution list than things like spending more time with family and friends. And when asked about their worst decision they made over the past year, 34 per cent of respondents said it had to do with money.
In a tough economy, good intentions might not be enough. If Canadians want their resolutions to work, it's especially important for them to get a handle on their debts and map out their financial strategies, according to Courtney.
"People have dreams and hopes for the future," Courtney says. "But making dreams a reality requires a plan."
See related: 3 money mindsets for the new year; Smart savings strategies for your 20s, 30s, 40s and beyond
Published January 12, 2012
Most recent Research / Statistics Stories