Issuers improve credit card frequent flier programs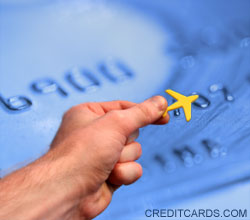 Many travellers threw down their beach towels when their airline rewards programs proved too difficult to wring out a freebie. Now that's all changing with improved airline rewards programs that focus on your choices.
At one time you traded in your rewards points at the whim of the participating company. Chances are you never got the dates you wanted, or the seats you wanted, on the airline you wanted. The few seats allowed on each flight were booked up pretty fast. Likely you ended up trading in your measly rewards points for movie tickets instead.
Now the rewards programs have become more consumer friendly. Here's a quick look at a few attractive choices currently on offer.
During the initial offering, there was great anticipation for the WestJet card, offered through RBC and MasterCard. Thousands of eager applicants were ready to get their hands on this card to start accumulating mileage for a free flight. Instead of accumulating points on the card, you accumulate WestJet dollars. The dollars can be used like cash to make a flight purchase. Furthermore, there are no restrictions. Choose the flight that you want and, when you are ready to pay, instead of using your credit card, you use your WestJet dollars. You also can earn a percentage of money back from the amount you charged on the card. You may use the credit card anywhere credit cards are accepted, for any type of purchase.
Aeroplan and Airmiles also run popular loyalty programs that have weathered the recent financial storm the past year. Operating together with multiple partners, they allow people to earn points toward flights by using a credit card or a member card during checkout. The programs continue to issue more travel rewards than any other program in Canada, enabling people to get flights. Aeroplan worked with Air Canada in 2009 to release half a million seats and continues to evolve its programs to fit the needs of consumers.
For flexibility, there is Aeroplan's Classic Plus program. Any seat on an Air Canada flight can be purchased with rewards points, or a flight on a Star Alliance partner may be suggested if it serves the same route. This type of program is more costly to run, as a variety of seats can be based on fluctuating market pricing. That's why it may take more Aeroplan points for a seat, rather than choosing what is on the menu with Airmiles.
The best travel rewards program will be the one that gets you on the flight you want quickly, plus offering cash back and extra rewards miles when you purchase participating items. As travel rewards programs continue to evolve to fit the needs of travellers, there will be more options for getting off the ground and on the way to a vacation of a lifetime.
Written by Melanie Dixon.
Published May 7, 2010
Most recent Airline / Frequent Flyer Programs Stories