Canadian banks integrate Apple Pay; Samsung Pay on the way
Apple Pay is now in Canada, with all five of the big banks partnering with the mobile wallet. Samsung Pay will join the scene as well in upcoming months. That means soon, Canadian consumers will be able to pay for nearly anything, anywhere -- without ever opening their physical wallets.
Apple Pay now more widespread
When Apple Pay first launched here in November 2015, it only worked with American Express cards. Consequently, it ended up being more of a soft launch.
"There's an associated merchant fee that comes with accepting American Express, so it's an additional cost to the retailer," says Humza Teherany, CEO of Compass Digital Labs, which uses technology to enhance consumer experience, including mobile payments. Thanks to that additional cost, many Canadian businesses do not accept American Express, which limited Apple Pay's usefulness.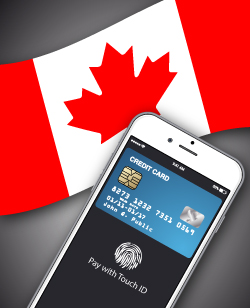 But now, Canada's major banks are starting partnerships with Apple Pay and integrating the MasterCard and Visa credit and debit cards they offer into the application.
"RBC credit and debit cards are now available on Apple Pay for all our customers," says RBC spokesperson Jeff Lanthier. The same holds true for customers of the other four big banks.
How Apple Pay works
With more cards working with Apple Pay and many more Canadians able to use it, more consumers may be wondering how they can start paying for purchases with their iPhones.
Setup is fairly simple. You open the Apple Wallet application and add
a credit card or debit card. You can manually enter the card information, or use the phone's camera to take a picture of your card, which will then pre-populate the form with your card details. Depending on the card's issuing bank, you will then need to authenticate your identity with a call, e-mail or text message containing a passcode. Once entered, you're set to start paying for items with your phone. The same process also works for the Apple Watch, but cards need to be individually authenticated with each new device you put them on.
When you're ready to make a purchase, the merchant does not need to do anything special for the transaction, and you don't have to open Apple Wallet or even unlock your phone. Instead, simply put the phone near a regular tap-and-pay contactless terminal when prompted and the phone will do the rest. Thanks to the near field communication (NFC) chip in the phone, the iPhone will sense when it's near a compatible payment terminal and bring up your credit card automatically. Place your finger over the fingerprint reader to authenticate the payment and you've paid.
"It makes a big difference when Apple Pay allows you to place the iPhone near the contactless terminal and bring up whatever it's going to bring up on its own, while with Samsung Pay you have to swipe up from the bottom of the screen before you can pay," says Teherany. "As long as a mobile payment has fewer steps than pulling out your wallet and taking out a card, more people will use the technology."
Apple Pay vs. Samsung Pay
Officially, little else is known about Samsung Pay beyond that it's coming to Canada later in 2016.
"When we have more information to share on Samsung Pay as it relates to the Canadian market we will be sure to reach out," Lianne Pitts, a representative of North Strategic, Samsung Canada's public relations agency, said in an emailed response to questions.
However, based on the U.S. and other countries where Samsung Pay has rolled out, we can infer a few things. First, the mobile wallet works with the newest Samsung Galaxy phones, including the S6 and S6 Edge, the S7 and S7 Edge and the Note5. Adding a card to the wallet is very similar to Apple's process and, like Apple Pay, it requires fingerprint authentication to make a purchase. As Teherany says, you do have to swipe up from the home button to activate the app to make a purchase, making it slightly less convenient than Apple Pay.
However, Samsung Pay has one feature that puts it above Apple Pay at certain stores, especially in the U.S. In addition to NFC technology, Samsung's purchase of LoopPay in February 2015 means it also uses Magstripe Simulation Technology (MST), which can simulate the swipe of a credit card at retailers where no tap-and-pay technology exists. Though market saturation for tap-and-pay is over 50 per cent in Canada -- much higher than in the U.S. -- Teherany says Samsung Pay's ability to work with magstripe readers will still have a significant impact north of the U.S. border.
"There are still terminals you come across in Canada where you can't do tap-and-pay, so even though it's in the minority, Samsung offers a pretty great solution to be able to pay [in places] where with Apple Pay, you couldn't," says Teherany.
Both wallets have optimal safety features
In addition to requiring fingerprint or PIN authentication to make a purchase, Samsung Pay and Apple Pay also use tokenization to keep your sensitive credit card and debit card information safe.
"Tokenization basically means that none of that payment card data is actually stored on your phone," says Teherany. "Instead, at the time of purchase, Apple Pay and Samsung Pay generate a token they send to the terminal meant to symbolize your credit card and that you are who you're meant to be. At the same time, the terminal generates a one-time transaction code that's only valid for that one transaction with your phone."
So if your phone is stolen, the thief will not be able to retrieve your credit card information since it's not actually on the phone. Additionally, you must set up a PIN or fingerprint lock on your phone itself to add cards to or use Apple Pay - remove the passcode on the phone, and all your card information will be deleted from the wallet. If somehow a thief is able to obtain your PIN or simulate your fingerprint, Apple Pay can be cancelled and uninstalled from anywhere by logging into iCloud.com.
With Samsung Pay, in addition to being able to set a lock on a Galaxy device, you must enter your PIN or fingerprint to even access the Samsung Pay app, which stores your cards (though it does not store complete card numbers).
The forecast for mobile payments
While a CIBC study showed that two-thirds of Canadians are open to the idea of a mobile wallet and payment system, Teherany says that if you look past millennials, adoption in Canada has been slow.
"People always say, 'It's easier to pull out my wallet and take out my card,' so the companies that are going to continue to win in this space are the ones that are basing their innovations around the user experience and making it really easy for the user to pay," he says. "If it's any more complicated than waving your phone in front of a terminal, adoption rates won't be what they could be." Samsung and Apple have certainly done this, he says, which leaves the door open for greater choice and convenience at the checkout line.
See related: Mobile banking trends help branchless banks evolve, Got a smartphone? What you need to know about smishing
Updated November 15, 2016
Most recent Product Features Stories