Want to boost rewards? There's an app for that
Canadians love their loyalty card programs, credit card rewards and their smartphones, so it just makes sense that we should be using an app to help us track rewards points and even help us maximize them.
The Canadian edition of the 2016 Bond Loyalty Report, conducted by Bond Brand Loyalty in collaboration with Visa, found that Canadians are active in an average 7.3 loyalty programs. The study also found that consumers want to use their mobile devices to keep up with their points. Forty-four percent want to engage with programs on a mobile device. Half of respondents want to use their mobile device to check balances, and 44 per cent want to use them to redeem points.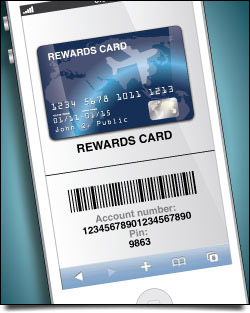 However, while Americans have a lot of options to maximize card rewards and track points, Canadian travel hackers did not know of any similar apps in Canada. "In Canada, there are actually very few point-multiplying cards," says Jayce Loh, an experienced travel hacker who runs a blog on PointsNerd.ca. "So in actuality, there's not a whole lot to keep track of."
Canadians, though, do have several apps to check our balances and maximize rewards, including mobile wallets and personal finance apps, among others. Here are four ways to do that, plus the lowdown on the security of such apps.
Personal financial apps
Loh and Avery Campbell, president of Awarding Canada, both recommend Mint, which tracks and categorizes your day-to-day spending.
"This analysis can help you make a rewards decision," Campbell says. You can adjust the rewards cards in your wallet according to how you actually spend your money.
"Most credit cards now require some sort of minimum spend in order for you to get the points they're offering as a sign-up bonus," Loh says. He uses Mint to track all his cards and how much he has spent on each of them. "Once I meet the minimum spend, unless I see value in the card for everyday spend, it's not in my wallet," he says.
There are several personal finance apps on the market, and most are free. Simply search for "personal finance," "budget" or other similar keywords in your phone's app store and find one that works best for you.
Virtual organization apps
If you have just one or two loyalty cards in your wallet, you may be happy just using the issuers' mobile apps. Credit card reward apps, however, are harder to find.
RBC recently launched its RBC Rewards App, which is more versatile than most banking apps. It lets users track rewards and redeem points, and sends users rewards offers.
But if you have several loyalty cards, apps such as Key Ring, CardStar and Stocard can help you declutter. These apps allow you to load your loyalty and membership cards, and a bar code is displayed on the screen. When you shop, just bring up the correct card on your phone, and the cashier can either scan the bar code or enter the number manually, allowing you to collect the points. These apps also display flyers and special offers, and some will display nearby stores.
Stocard also lets you log in to some of your loyalty reward programs, such as Air Miles, so that you can view your points balance.
Matt Bailey, the travel hacker behind Canadian Free Flyers, uses Award Wallet. Because you input your login information along with your loyalty card numbers, the app offers real-time tracking of your points. It also sends you reminders if your points are going to expire.
"Award Wallet is kind of the go-to through the whole travel-hack community," Loh says. "It actually picks up things like reservations you've made under your frequent flier points and hotel points and things like that."
Mobile wallets
Several of the major banks, including Scotiabank, CIBC and RBC, offer mobile payment apps that allow you to earn points on their cards for purchases you make with your mobile phone.
Mobile wallets, such as Apple Pay, Samsung Pay and UGO Wallet, combine the convenience of the virtual organizers with mobile banking. You can store all of your loyalty cards, plus your debit and credit cards in one place, then pay or collect points using your mobile phone. The list of banks affiliated with these wallets is growing, as is the number of stores that accept them.
Alternative rewards apps
While point-multiplier cards are uncommon in Canada, coalition loyalty programs, such as Air Miles, Aeroplan and Scene Rewards, are extremely popular. With these programs, members can collect rewards at a number of different stores.
Drop is a new player in this field. With Drop, users link any credit and/or debit card to their account to earn Drop points at certain stores, such as Tim Hortons and Shoppers Drug Mart.
"You're able to earn points on top of what you're already earning on your credit card," says Derrick Fung, Drop's CEO. "If you link a debit card, you're able to earn points on your debit card, which you normally can't." Drop points can then be redeemed directly from the app for e-gift cards to places such as Amazon, Lululemon and Starbucks.
Carrot Rewards is another new app in the marketplace, though it is currently only available in British Columbia, and Newfoundland and Labrador. Users can earn points through their favourite loyalty programs, including Aeroplan and Scene, simply by making healthier choices. You can link it to your step-tracking app and earn rewards for increasing your steps per day, as well as by completing quizzes on health-related topics such as nutrition and physical activity.
Security
Apps such as Mint, Award Wallet and Drop all use bank-level encryption to ensure that your data is safe.
However, "It really depends on the user to set up what is a strong enough password so people aren't going to be able to hack your account," says Loh. He points out that the most impenetrable safe in the world isn't going to help you if your password to unlock it is 1-2-3.
Keep in mind that security is important even if you are just entering your loyalty point login information as opposed to credit or debit card info, especially if you are a serious points collector. Travel hackers, for example, can easily have hundreds of thousands, if not millions, of points.
"That is equitable to cash," Loh says. "I redeem those points for business- and first-class travel around the world tantamount to tens, if not hundreds, of thousands of dollars." So take your points seriously as well, Loh says, because "there is a very real risk of losing actual value and money."
See related: How to optimize rewards beyond double-dipping; Is it wise to shop in the U.S. to earn more rewards with weak dollar?
Updated December 8, 2016
Most recent Reward Programs / Cash Back Cards Stories