4 ways to handle back-to-school shopping -- without credit
Back-to-school season is a costly time of year for parents: your kids need school supplies, new clothes and money for lunch. The key to avoiding a financial headache that could last all semester is staying organized, say financial experts who are also parents.
"It's super expensive, and it's a hectic time, not just because they're going back to school, but other activities start up, too, like hockey, swimming lessons or piano classes," says Mark Kalinowski, a Calgary-based credit counsellor with the Credit Counselling Society. He's also the father of two school-aged children.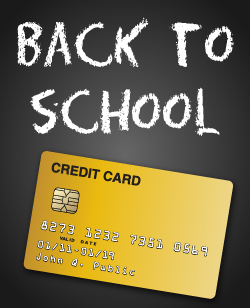 Sidebar: How to negotiate
finances with kids
You're paying for your kids' smartphones, designer jeans and hockey memberships -- before you know it, you're spending thousands to fund their lifestyles. Here are four tips for negotiating finances with your kids.
"If you aren't careful, then all of the spending on school supplies or fees and new gym clothes and anything else your kids need is going to add up and you might not know how to pay for it without credit," says Laurie Campbell, executive director of Credit Canada. She's also the mother of two university-aged children.
Campbell and Kalinowski suggest these four tips for back-to-school shopping -- without overspending or relying on credit:
1. Set a budget, make a list and stick to the plan.
Ideally, you included school shopping in your yearly budget and have set aside funds for the new shoes and the fancy notebooks your kids want. Planning is crucial so that you won't turn to credit to fund all the new purchases.
If you haven't budgeted for back-to-school expenses this year, add that now to next year's budget. And if you must use plastic, have a solid plan for paying it off in a timely manner so you aren't still paying for this year's supplies when next September rolls around.
Once your budget is set, don't just head to the mall with the intention of buying "school stuff," Kalinowksi says. You'll end up buying things you don't need or already have.
"Lots of parents scramble ... and purchase without realizing they may not need all of these things," Kalinowski says.
Check that list that came home with your kids at the end of the last year. Or buy some basics and wait until after the first day of school to get a concrete list of what your child needs.
As for clothes, consider your child's typical wardrobe and come up with a list of what your child might want or need before you head out to shop.
Finally, stick to your budget. It's tempting for kids -- and you -- to want impulse buys, but if you stick to your plan, you won't have regrets when your credit card bill comes due.
2. Do an inventory check -- then put new-found savings into the budget.
"It's so easy at the end of the school year to dump the backpack," Campbell says. "But if you can pull everything out that's still usable in the fall, you're one step ahead of the game. There are many times my kids wanted this or that, but they had drawers full of them already."
Make it a family habit. At the end of the school year, set aside anything that can be reused next year in a school supply bin. Go through any homework areas or desks in your house, too, and purge all of the things you no longer need and save only the stuff that you can use again.
Get your kids to help by offering incentives. For instance, for every school supply item they find that they can use again, give them $5 toward their clothes budget. Not only will you save money on buying yet another set of coloured pencils, but you'll get a finance lesson in, too.
3. Identify immediate needs and wants.
Your child in high school may have two different math classes -- one in the fall, one in the spring -- or a gym class that doesn't start until after the winter holidays. As a result, a new geometry set and calculator, or sneakers and shorts, may not be necessary until January.
And if some items can wait until January, maybe they can arrive as holiday gifts from friends and family -- reducing your budget.
Similarly, September is still warm, and your kids don't yet need long sleeves, boots and sweaters. Don't buy today what you may be able to find on sale in the weeks ahead when those items are needed.
Talk with your child to determine what he needs right away, and what can wait. If you can hold off -- even just a couple of weeks after back-to-school spending cools off -- you're more likely to snag a deal, Campbell says.
If you can shop in waves instead of one big splurge, your bank account has a chance to recover. With a few smaller credit card balances instead of one large one you're more likely to be able to pay off your bills.
Sure, you might end up charging about the same amount of money, but if you break up your spending, you may be able to avoid interest charges by paying off your smaller monthly balances.
4. Leave the credit cards at home.
Campbell compares the back-to-school shopping season to Christmastime: in both instances, the spending gets "out of control," she says.
This is especially the case if you're mixing credit cards and kids, which she calls the perfect storm. Your child could push your boundaries -- and budget -- and insist on spending more on new jeans or a pricier backpack.
"With credit, it's so easy to not recognize how much you're spending and whether you're going over budget," Campbell says.
To avoid this common trap, withdraw only as much cash as is needed, and explain to your child that you won't be hitting the ATM again or resorting to your credit card.
If you're worried about security or simply don't want to carry cash, try loading your budgeted amount for back-to-school shopping on a prepaid card instead.
Either with cash or prepaid card, when the funds are gone, that's it. "It's showing your kids there is no infinite supply of money," Campbell says.
If you set a $100 budget, having the $100 in hand can make it easier for your kids to see how quickly it goes, especially if they want only the most expensive gear available.
Of course, you might want to use your credit card to rack up rewards points or cashback. In fact, some credit card rewards change quarterly to give you more points on seasonal purchases, and the third quarter special might be clothes or office and school supplies.
To avoid overspending while raking in your rewards, keep a close eye on your spending. Try keeping all of your receipts, or writing down each purchase as you make it.
Sure, you can always check your statement, but having a spending log that you can see climbing in real time will help you stick to your budget.
A final tip to avoid that months-long financial headache: Try to pay off your charges as soon as you're done school shopping.
Back-to-school shopping is already stressful as you fight crowds and deal with potentially cranky kids who don't want summer to end or who are nervous about the school year starting up again. Lessen that stress where you can by having a plan, spending carefully and not adding to your debt pile.
See related:
5 credit card no-nos for students
,
5 ways to defuse shopping addiction triggers
Updated August 16, 2017
Most recent Shopping Stories