Bank actions signal end of credit crisis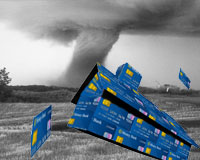 Some of Canada's largest banks cut the amount of money kept aside to cover credit card defaults, signaling optimism that the credit crisis is over.
According to fourth quarter 2009 figures, The Canadian Imperial Bank of Commerce and the Toronto-Dominion Bank all lowered their provisions for credit card-related losses. These provisions are kept on hand to cover lapses in consumer payments on credit card accounts.
CIBC, one of the largest credit extenders in the country, set aside $224 million, down from $248 million last quarter.
"If [CIBC] is right and the economy's going to recover imminently, that's great, but if 2010 turns out to be worse than expected, they will be impacted significantly," said Brad Smith, an analyst at Blackmont Capital, told the National Post.
Toronto-Dominion Bank also showed confidence that defaults would decrease, slashing its credit card loss provisions, according to the National Post.
"The whole credit thing is a concern for me because there is nothing to support the levels of provisioning the banks are doing," Smith told the National Post. He said economic forecasting may be inaccurate due to unusual market events that have occurred in the past two years.
"You can't look to the past to support the adequacy of the provisioning," he said.
Yet not all banks are placing as much confidence in consumers' abilities to pay. The Royal Bank of Canada, the largest bank in the country, set aside $108 million to cover potential credit card losses, up from $107 last quarter.
Published December 8, 2009
Most recent Legal, regulatory, privacy Stories