Bank of Montreal to offer plastic through insurance brokers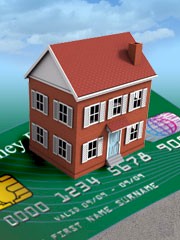 Financial institutions have never been able to offer insurance products at their branches. However, Bank of Montreal is set to offer credit cards at insurance brokers across Canada. Traditionally, financial institutions have never been permitted to offer insurance products through their branches. However, Bank of Montreal has found a regulatory workaround as it embarks on a venture that will see its credit cards offered through insurance brokers throughout Canada.
Bank of Montreal, Canada's fourth largest bank, is set to offer its products through more than 4,000 insurance brokers in Canada. (The bank acquired the life insurance part of American Insurance Group (AIG) last year for $330 million.)
Traditionally, the top banks in Canada have been governed by federal regulations under Canada's Bank Act that prohibits them from offering insurance products through their branches. Last fall, Finance Minister Jim Flaherty further told them to discontinue selling insurance products through their websites.
Now, various Bank of Montreal banking products will be offered at insurance brokers, not only benefiting the broker, but also the customer. Soon, not only will you be able to apply for credit cards at your local insurance broker, but also you will be able to apply for mortgages and other financial products offered by the bank.
The new offerings will greatly benefit the outside advisers and broaden their reach and distribution in the marketplace, BMO Life Assurance Co. CEO Peter McCarthy told Bloomberg News. "The more products they can add to their clients, the closer they become to becoming that valued first adviser."
Bank of Montreal only stands to benefit as it saves on the expense of opening extra branches by allowing the marketing of its products through third-party insurance brokers. It's too early to say yet whether there may be negative consequences as BMO puts control of its financial products in the hands of those third-party brokers.
It won't be much longer before you can do your one-stop shopping at your insurance broker for not only your car and home insurance, but also to renew your mortgage and apply for a credit card to finance home renovations at the same time.
Written by Melanie Dixon.
Published April 23, 2010
Most recent Product Features Stories