Be wary of online advertisement tricks and traps
Though many Canadians mistrust online ads, ever-present promotions in the digital space can fool even seasoned web shoppers with confusing terms and conditions. And saying yes to a "free" offer or signing up without reading all the fine details can land you in trouble -- trouble that you will literally pay for. While it's essential to take time to read all fine print and be wary of what you sign up for, you should also know what consumer protections are available to you.
Less than a third of respondents to Advertising Standards Canada's 2014 Consumer Perspectives on Advertising survey said they were comfortable with the truth and accuracy of online pitches. Michael Mulvey, a University of Ottawa assistant professor and consumer behaviour expert, says that when Canadians fall prey to digital marketing ploys it may be partly because viewing online ads is generally a solitary activity.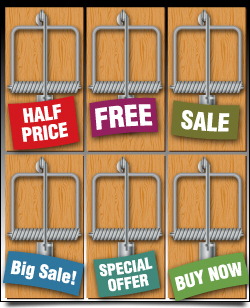 "You usually don't have people gathering around the computer talking about digital ads, nor do you have that same pause to reflect with online advertising like you do in a store or other face-to-face marketing channels," notes Mulvey.
Below are four of the riskiest advertising tricks and traps in the digital environment.
1. "Free" online offers
Chris Oates, an associate at international law firm Gowlings, says the word "free" has always been a powerful draw for consumers, but
people may be more vulnerable online due to the convenience and speed of digital communications. Misleading ads for "free" products show up not only on websites, but also on social media sites such as Twitter and Facebook.
"Particularly through the use of social media, it can be much easier for marketers to go off message and communicate confusing or misleading information to the consumer," Oates says.
Confusion about costs can also result from emailed offers. Recent Competition Act amendments brought in as part of Canada's anti-spam law specifically prohibit false or misleading email communications. For instance, an email's subject line may not suggest that an offer is free if the body of the message outlines costs that the recipient must pay.
2. "Drip pricing"
The Competition Bureau is actively investigating a growing online advertising scheme known as "drip pricing." In these ploys, sellers present an irresistibly low sticker price for a good or service, then "drip out" additional cost components buried in the fine print.
Low APR credit card balance transfers offers that do not specify extra charges and pricing conditions are an example of drip pricing.
Jason Heath, a fee-only financial planner with Objective Financial Partners, explains that card companies often offer low introductory interest rates to entice consumers to transfer balances. However, these offers often end before the consumer has time to pay off the entire balance, and the interest rate spikes. In addition, to balance a transfer, you often must pay transfer fees in addition to interest. And if you miss a payment, the discounted APR often reverts to a much higher rate.
While the low introductory rate is usually in large, bold print in the advertisement, the other details likely are buried. Financially vulnerable people may sign up for the balance transfer offer and, fearing that they will miss out, gloss over terms and conditions detailed in small fonts and hard-to-find footnotes, Mulvey says.
"Another problem is that unless you're an expert in statistics, few people can really figure out what the true cost is going to be because the terms and conditions contain so many contingencies," he adds.
3. Hidden subscriptions
Subscription traps trick consumers into paying for seemingly one-time goods or services when they're actually signing up for recurring, paid subscriptions. If you provide a credit card number, it's all too easy for the seller to set up the payments, maybe without you realizing it. Many people fail to look at their credit card statements, especially if they keep a balance on the card and pay a set amount to the card each month. If you do that, by the time you catch a recurring payment, it could be months later.
Toronto Star columnist Ellen Roseman writes about how an online shopper bought what he thought was a one-time trial offer advertised for only $4.95. By the time he discovered the subscription, recurring charges on his credit card totaled more than $400.
Oates advises dealing only with reputable companies, but even then it is important to read all terms and conditions before deciding to register for an online offer.
4. Fake online endorsements
"Astroturfing" refers to fabricated reviews and testimonials planted on websites by employees or paid third parties to persuade consumers to buy a particular product or service. It's a serious problem -- Search Engine Land's 2013 survey found that that 79 per cent of American and Canadian respondents trust online reviews as much as they do personal recommendations.
Canadians who rely on web reviews need to be particularly vigilant. There isn't a rule in Canada to disclose any connection that is a potential conflict of interest (such as when the writer is compensated to create a review).
Oates says that while most people realize that a celebrity appearing in a TV commercial is being paid, online reviews and testimonials can be much less transparent.
You should always use proven review sites, such as Amazon or the Better Business Bureau, and read as many reviews as possible, as it's harder to fabricate hundreds of credible critiques.
Protections are in place
The federal Competition Bureau and provincial consumer affairs agencies have prioritized their monitoring of potentially deceptive online promotions. In addition, consumers can complain to Advertising Standards Canada.
Cristina Onosé, manager of public relations for the Canadian Marketing Association, says the CMA also has stringent rules against misleading advertising both online and offline. These include a Code of Ethics that requires member organizations to provide clear, prominent and easily accessible disclaimers.
You have another powerful ally if Google ads are involved: Chris Hickman, owner of the firm GetBackOnGoogle.com, says the global colossus will come down hard and fast on online marketers if consumers advise them of false or misleading Google ads.
"If an online statement is not true for one out of 100 people, or if one out of 100 could possibly have a negative outcome, then Google will suspend the site regardless of whether it belongs to a credit card company budgeting millions of dollars for AdWords advertising or a small entrepreneur spending $5,000."
See related: Beware 'buy now, pay later' ads; Dealing with deceptive credit card advertisements
Published December 18, 2014
Most recent All credit card news Stories