Mobile banking trends help branchless banks evolve
For most Canadians, the need to walk into a brick-and-mortar bank branch to conduct business with a teller is dwindling. As online and mobile banking become the norm, Internet-only banks are becoming more mainstream.
Just look at the branchless Canadian bank Tangerine (formerly ING Direct), whose clients conduct their banking exclusively online. In October 2015, it announced its first credit card, a cash-back MasterCard with no annual fee -- not unlike many other banks' credit cards. That move brings Tangerine closer to being able to compete with Canada's five major traditional banks.
According to the Canadian Banker's Association, 55 per cent of Canadians use the Internet as their primary daily banking method, and 48 per cent pay bills online. Mobile banking is also increasing, with 31 per cent of Canadians saying they used it in the year leading up to July 2015, up from only 5 per cent in 2010. Tangerine, which is owned by Scotiabank, estimates 12 million to 15 million Canadians are "direct ready," meaning they're willing to bank exclusively online.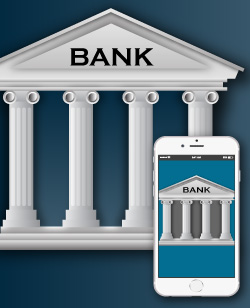 Tangerine isn't Canadians' only branchless bank choice, either. President's Choice Financial, which is part of CIBC's network, and Manulife Bank also offer online-only banking. Though these banks aren't overtaking traditional banks (yet), they do offer some perks their more established counterparts do not.
Free banking comes with fewer caveats
Over the past year, Canada's five biggest banks have all increased banking fees in a variety of sectors. Canadians now pay $2 to $5 per transaction for exceeding their allotted free transactions on chequing
or savings accounts. A report from the Financial Consumer Agency of Canada (FCAC) found banking fees rose 13.6 per cent from 2005 to 2013 (though the increase was moderate in relation to the 14 per cent inflation rate).
However, PC Financial and Tangerine both offer fee-free daily banking in chequing and savings accounts, and they don't require account holders maintain minimum balances to avoid fees like the Big Five do.
"Our daily no-fee banking can save Canadians up to $200 each year in fees," says Michelle Reidel, PC Financial's senior manager of public relations and communications.
Tangerine also makes sure the fees they are required to charge in other areas are disclosed prominently and that they are fair. "We want to help Canadians live better lives and make smarter decisions with their money, and one of the ways we do this is by ensuring that any fees we need to charge are fair," says Cayley Kochel, Tangerine's public relations manager.
PC Financial and Tangerine also extend that no-fee promise to credit cards and transaction fees at their own ATMs, as well as at CIBC and Scotiabank ATMs, respectively.
Manulife Bank operates more like an old-line bank, requiring a balance of $5,000 in a regular Advantage account before extending fee-free everyday banking transactions. However, it does offer a MasterCard with no annual fee and the bank belongs to The Exchange Network, one of the largest no-fee ATM networks in Canada.
"We are thrilled with the addition of Manulife Bank's ABMs to The Exchange Network," Andrew Obee, president & CEO of FICANEX Services, which runs the network, said in a news release. "This increases our surcharge-free ABM fleet to over 3,300 coast to coast, making it one of the largest ABM networks in the country and further promoting anytime, anywhere access to surcharge-free cash to Canadian cardholders."
Branchless banks hold their own in convenience, perks
Branchless banks offer as much, if not more, in their mobile apps as the Big Five apps do. With the Tangerine and PC Financial apps, you can do daily banking tasks on your smartphone, including depositing cheques, paying bills, checking balances, sending money and transferring funds. Tangerine's app comes with fingerprint authentication on iOS 8 iPhones, and is the first to be available on the Apple Watch. Manulife Bank's app has many of the same features.
"We provide Canadians the ability to bank where they want, when they want and how they want, and this is becoming more important than ever with the rise of mobile banking," says Kochel.
Branchless banks have some skin in the rewards game, too. Manulife Bank's credit and debit cards allow you to earn points on eligible purchases that can be used for flights, hotels, movie tickets and gift certificates. You can also redeem points for cash that you can deposit into your account to help offset administration fees and service charges.
PC Financial is owned by Loblaw Companies, which also runs the President's Choice line of food products. So the bank's PC Plus Rewards Program is tied to those products. Bank card holders earn five points toward groceries for every dollar spent on President's Choice products. PC Financial's suite of no-annual-fee cards "allow consumers to save up to 3 per cent annually in everyday rewards, such as groceries, gas, travel and drug store," says Reidel.
Lacking a human touch?
The one advantage traditional banks may have over online-only banks is the customer service they're able to provide in their branches. Though only 13 per cent of Canadians bank in branch as their primary method of daily banking (down from 29 per cent in 2000), the Canadian Bankers Association says branches remain a valued method for specialized banking services. And some people just feel more comfortable when they can talk to a banker face-to-face.
However, branchless banks have set up various ways to reach out to Canadians in person. "[Tangerine has] cafés located in some of the busiest Canadians communities, and pop-up locations that travel around the country," Kochel says. "We invite Canadians to come in and enjoy a cup of coffee while learning how they can take control of their finances while also seeing our latest technology. We understand some Canadians may be more comfortable walking into a branch to do their banking in the traditional sense, but we cater to what we call 'direct ready' Canadians who are comfortable banking on their own terms, whether it be online, through our mobile app, over the phone, or at our cafés or pop-up locations."
PC Financial offers customers more than 210 pavilion locations in grocery stores, where they can meet and talk to a personal banking representative. Manulife Bank does not have any branches, but customers can make an appointment to visit in-person with one of the financial advisers in its existing network.
See related:
Marketplace lending: The popular peer-to-peer system hits Canada
,
Author account: How my bank account has evolved with me
,
How to safely use mobile banking
Updated November 15, 2016
Most recent All credit card news Stories