Can you sell and trade your sports credit card?
Collecting credit cards is a niche hobby that can attract lucrative bids from private collectors. Often, cards signed by their famous owners - Hollywood celebrities, sports stars and the like -- bring in the most money. One star's card sold for more than $10,000 in 2011.
Even credit cards without celebrity owners can attract an audience. Some hobbyists look for old, rare or distinctive credit cards, as long as they are in excellent condition. In fact, one eBay listing offers a collection of MasterCard and Visa baseball credit cards -- featuring individual players and full-colour team logos -- for $3,500. So if you have one of the several sports affinity credit cards available in Canada, can you keep it after the expiration date and sell it to an avid collector? Probably not.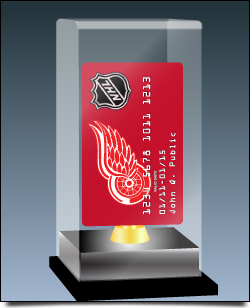 Shaky legal ground
Creditworthy Canadians can pick from a wide selection of credit cards that allow them to show their enthusiasm for a particular sport or team.
For example, Bank of Montreal offers a MasterCard for each of Canada's three professional soccer teams. MBNA Canada issues credit cards for baseball, basketball, hockey and football teams representing Canadian cities. Scotiabank has designed a set of 31 NHL Visa credit cards that target all hockey fans eligible for a credit card. Ben Hansen, director of credit cards portfolio acquisition and lifecycle management, says the main NHL logo card is the most popular.
But when asked whether the ScotiaHockey credit cards can be collected, sold or traded as sports memorabilia, Hansen replied that, "We wanted to have attractive, eye-catching card designs, but we did not intend them for resale after the fact -- nor do we do that with any of our other credit cards."
Hansen explains that each card remains the bank's property. "When it expires and we send you a new one, our instructions are to destroy the old card once you have activated the new one."
Most cardholder agreements have an "ownership of the card" section, specifying that the credit card belongs to the card-issuing financial institution. If you are unsure about whether you can use your credit card for purposes not mentioned in the agreement, you should check with your card issuer.
So how can eBay offer that baseball credit card package? While the online auction site does allow sellers around the world to list credit cards that have been expired for at least 10 years, the site's terms and conditions specifically exclude "Cards still owned by the company [for store cards] or card issuer, even after the card has expired."
"In addition, the NHL and the NHL Shield are registered trademarks of the National Hockey League," says Hansen. "These conditions are not aligned with using your card to make your own sports memorabilia as a keepsake."
Indirect collecting opportunities
Although sports affinity credit cards themselves may not be suitable as collector's items, many cards come with rewards and perks that enable consumers to profit from their passion for tradable memorabilia.
Points earned on most sports-themed MBNA MasterCard rewards cards can be redeemed for sports memorabilia and merchandise, while air miles generated from BMO soccer credit cards can be used toward fan mementos from the Air Miles Dream Rewards catalogue. One example is a framed collage of famous hockey players featuring Gordie Howe, Bobby Orr, Wayne Gretzky and Mario Lemieux.
ScotiaHockey credit cards entitle cardholders to a 20 per cent discount on merchandise when they buy from the NHL's official online store. "These include collectible items such as autographed photos, hockey pucks, action figures and replica jerseys, as well as player trading cards," says Hansen.
Those types of items are probably your best shot at cashing in on your card's sports theme. For example, Kitchener's All-Star Sports Collectibles is a shop and website that sells a wide range of sports souvenirs, including trading cards, pictures, apparel and other items. Citing legal concerns, owner Kevin Ivory passes on any proposal to buy or sell sports affinity credit cards.
However, Ivory says he would consider selling on consignment the type of sports merchandise available from perks or rewards earned with those cards.
See related:
Identity thieves target rewards points
,
Card issuers face clear writing review
Published June 18, 2014
Most recent All credit card news Stories