Retailers report increase in holiday spending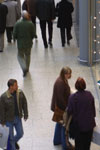 An increase in consumer spending this holiday season is giving retailers a reason to believe 2010 may indeed be a prosperous new year.
Shoppers spent about 8 per cent more from Christmas Eve through Boxing Week this holiday season than during the same time last year, suggesting consumer confidence is on the rise, according to data released this month by Moneris Solutions, a payment processing company.
"When it comes to shopping -- whether for clothing, jewelry or major appliances -- Canadians have demonstrated they are once again ready to spend," said David Ades, Moneris Solutions senior vice president in sales and marketing, in a press release.
Customers charged about 8.5 per cent more on their debit and credit cards at drug stores and pharmacies from Dec. 24-29 2009 than during the same period in 2008.
The willingness to shop stretched beyond the days surrounding Christmas. Spending on credit and debit cards rose more than 5 per cent over the course of December 2009 compared to December 2008. Every major retail category enjoyed a rise in customer spending.
Luggage and leather goods stores profited the most, with customers charging about 18 per cent more on their credit or debit cards in December 2009 while spending on cards at household appliance stores also rose by a significant 13 per cent. Discount stores also experienced a 10.6 per cent spike in spending.
"Discount stores did brisk business spending, yet consumers still demonstrated their willingness to spend by continuing to purchase big ticket items such as jewelry and household appliances," said Ades, in a press release.
Yet some Canadians were more willing to open their wallets than others. During December, Prince Edward Island residents increased spending on their credit and debit cards by almost 10 per cent compared to last year. Newfoundland and Saskatchewan residents were also happy to spend, with shoppers forking over 9.7 per cent and 9.5 per cent, respectively.
Published January 8, 2010
Most recent Shopping Stories