Canadian bankruptcy filings keep rising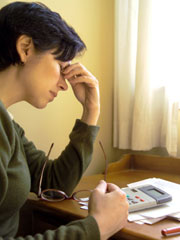 In the current financial climate, no one is too surprised that the number of Canadians declaring bankruptcy is rising. In the past year, the stock market has plummeted, real estate values have dropped, interest rates are lower, and unemployment is increasing. As a result of all of this, personal debt is rising. In this kind of financial climate, no one is too surprised that the number of Canadians declaring bankruptcy is rising. But the rate of increase is astounding.
In Canada, people who are drowning in debt and who cannot keep up with their payments have two choices. One is to file a consumer proposal to avoid bankruptcy by negotiating a settlement with your creditors. The other option is filing for bankruptcy protection.
According to BankruptcyCanada.com, Canadian consumer bankruptcies have soared 34.4 percent compared with those reported the same month the previous year, while business bankruptcies dropped 16.2 percent. Meanwhile, proposals rose by 28.4 percent. "One of the most significant changes in bankruptcies over the last few years is the remarkable decline in business bankruptcies, and the even more remarkable increase in the consumer bankruptcy rate," according to the site.
From 1990 to 2008, consumer bankruptcy skyrocketed by an alarming 112 percent. Approximately 3 in 1,000 Canadians have declared bankruptcy or have become insolvent.
Atlantic Canada seems to be the hardest hit, with 3.9 consumers in 1,000 becoming bankrupt. Provinces like Quebec, where 3.8 per 1,000 citizens are bankrupt, and Ontario with 3.3 per 1,000, are keeping central Canada well above the national average. The prairie provinces and British Columbia are the most stable: only 1.8 per 1,000 have declared bankruptcy. That's roughly half the national average.
Often adverse market conditions trigger layoffs, and there isn't much an unemployed person can do to avoid insolvency. Remember, bankruptcy is a last resort and will do permanent damage to your credit rating. From that point on, it will be difficult or next to impossible to secure lines of credit or credit cards, or to take out a life insurance policy, and even get a new job.
In other circumstances, early intervention through debt counseling can address the problems that may be at the root of a person's financial distress.
Written by Christopher Ibotrain.
Published July 20, 2009
Most recent Research / Statistics Stories