RBC to offer both Visa, MasterCard products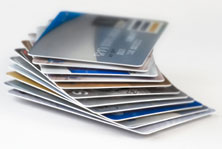 The Royal Bank of Canada (RBC) will be the first major credit card issuer in Canada to offer both Visa and MasterCard products. Until recently, major card issuers were limited to offering only one major credit card product. However, a ruling made last fall by the Competition Bureau of Canada allows financial institutions the option of offering both.
It's predicted this will create even more competition between Visa and MasterCard. Of course, consumers already had the ability choose between the two, but now they can have that choice through their own bank.
Apparently other countries such as the United States have had the same offerings in their major banks for years. It seems banks were watching activity across the border to make sure that such duality of products and services made a difference to customers, which it obviously has.
Even though these offers will be made through time-tested Canadian banks, you still will want to ensure you get the best deal by:
Choosing the card with the best interest rate
Making sure the card you choose has all the features that you want
Finding the card that has no annual fee
Making your bank work with you and your needs.
Once other banks see whether RBC's option to offer both major cards is a success, there will be better, more competitive options out there.
Written by Lily Wolf.
Published September 4, 2009
Most recent Legal, regulatory, privacy Stories