Canadians' credit card debt jumps $2 billion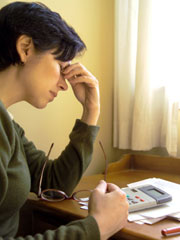 The working poor are being plunged even deeper into debt by the credit cards they're turning to in order to pay for the necessities of life. Without enough cash to live on, low income earners hit by the recession have been turning to credit cards to pay for basics such as food, rent and utilities, according to an article in
TheStar.com
. Worse, Canadians who are even two days late making a payment can be hit with a higher rate, decreasing their odds of getting debt off their shoulders.
Having bad credit can have repercussions, as these same people try to pass a credit check conducted by potential employers. Credit checks are increasingly becoming part of the job hiring process in Canada.
Ironically, low-income earners are the most lucrative type of cardholders for credit card companies.
Shocking statistics state that Canadians with bills more than 90 days overdue have increased by 53 per cent between September 2009 and September 2008, to $3.6 billion. Of all the major cities in the country, Toronto has the worst delinquency rate at 2.14 per cent as of October. This is a 24 per cent increase from October 2008, and above the national rate of 1.67 per cent.
Canadians charged nearly $267 billion on their cards last year. According to the Retail Council of Canada, it now costs $4.5 billion a year in merchant fees alone to run the system. The cost of credit is increasing for Canadians as their debt mounts.
According to Equifax Canada, "Total outstanding credit card debt hit an eye-popping $78 billion in September, up from $76 billion in September 2008. As shoppers hit the stores for Christmas, they'll be adding billions more to their credit card balances."
Merchants complain that they are forced to accept credit cards with rewards programs attached, resulting in higher transaction fees for them.
Ottawa is now closely scrutinizing the credit card industry in an effort to protect consumers, as Canada is turning to a cashless society, with heavy reliance on plastic to fund transactions.
Meanwhile, banks have toughened their credit card agreements, so if you pay late, you pay more. Interest rates are substantially increased for those who don't pay in a timely manner. Interest-free grace periods have been shortened for those who do not pay on time, though banks must conform to new regulations that give a 21-day grace period to those cardholders who pay their accounts in full each month.
Without an adequate income, low earners continue to turn to credit cards without the means to pay off their balances. A vicious cycle is created, preventing them from ever getting ahead.
Written by Melanie Dixon.
Published January 13, 2010
Most recent Research / Statistics Stories