Canadian credit card defaults at record level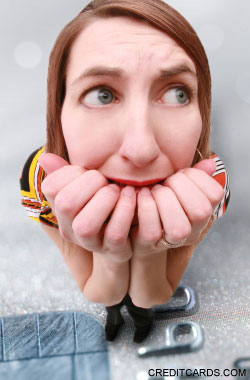 A mailbox full of unpaid credit card bills promises a dismal Christmas season for consumers and retailers alike.
According to a report from Moody's Investors Service, a New York-based financial rating agency, the amount of unpaid Canadian credit card debt written off by issuers rose nearly 60 per cent to record levels in the second quarter of 2009, compared with the same period in 2008.
Credit card delinquency rates or the number of card accounts past 30 days due has risen 23 per cent over the same April to June period from 2008. In the second quarter of 2009, the delinquency rate was at 2.82 percent, which rose from last year's 2.29 per cent.
Moody's suggested that the second quarter level dipped slightly from the 2.9 percent of the first quarter, but likely due to the tax refunds received by consumers.
According to Credit Canada, an agency that provides counselling services for debt-ridden Canadians, there has been a 22 per cent increase in counselling cases this year, and the year is not yet over. Not only do these debtors have a higher than normal debt load, but they are completely unable to pay any part of it.
Unemployment levels in Canada are predicted to skyrocket in the next few months, and personal bankruptcies are expected to remain at high levels until the new year. Little improvement is expected for a while.
The charge-off rate hit a high of 4.8 per cent in the second quarter as well.. When a credit card company has to write off a card balance as uncollectable, after 180 days of delinquency, it is called a charge off. This was a 57 per cent increase from the 3.07 per cent in the same quarter of 2008.
According to Moody's, this is the tenth consecutive quarter of a constant year-after-year increase in the index. The third quarter will experience a record high rate as well.
June's charge-off rate was at 4.96 per cent, which broke yet another record. Not surprisingly, this accompanies the personal bankruptcy level as well.
Moody's report states that the unemployment rate and credit card charge-offs are highly correlated, causing a lag in the general economy.
The unemployment rate in Canada will peak at 9.6 per cent in the second quarter of 2010. The charge-off rate will continue to rise following that period, but more slowly than in the beginning of the year.
According to Sumant Inamdar, the lead author of this report, there may be negative consequences for credit card asset-backed securities.
In the second quarter of this year personal bankruptcies increased to 41 per cent, to a total of 31,659 from 22,412 in the second quarter of 2008.
The good news is that the total amount of credit card balances have only slightly increased from last year's total in June 2008. Since banks have turned off the credit tap due to high losses, this may be one of the reasons why the countries total debt load has not increased.
Unfortunately, when the bank accounts are bare, there will be no chance for Canadians to start spending until they have dealt with the heavy debt load they are currently carrying.
Written by Melanie Dixon.
Published October 13, 2009
Most recent Research / Statistics Stories