Card issuers step up competition for new clients
Canada's credit card market has always been competitive but according to a new study, banks are hungrier than ever for consumers' business.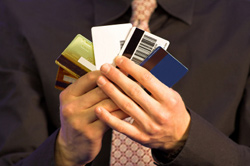 According to Mercator Advisory Group's new report, "The Canadian Credit Card Market: Tough Sledding," the level of competition for customer accounts has increased significantly. But while increased competition spells some benefits for consumers, credit cardholders still need to keep a watchful eye on bank offerings.
Among the factors contributing to the new challenges facing credit card issuers is the economy. That's because today's beleaguered economy is driving up household debt levels, resulting in more card delinquencies and write-offs.
"One surprise was how much the credit quality in the Canadian portfolio has deteriorated," says Patricia McGinnis, director in Mercator Advisory Group's banking group. "It's a delayed symptom of the economic environment."
Another challenge that promises to impact consumers: the legalization of dual network-branded issuing, which allows banks to issue more than one brand of credit card. In fact, the Canadian Imperial Bank of Commerce (CIBC) has become Canada's largest dual credit card issuer, having expanded into offering both MasterCard and Visa branded credit cards.
But while dual network-branded issuing may "equal greater opportunity for consumers," Canadians shouldn't expect banks to simply jump on the bandwagon and begin offering every card under the sun. "Just because banks can issue the other brand of credit card doesn't necessarily translate to the fact that it makes sense for them to do so."
However, one clear-cut sign of the banks' eagerness to land customers is today's plethora of reward programs. That's good news for consumers seeking discounts on travel, groceries, gas and air fares. "The best thing for customers is to take advantage of some of today's loyalty programs," says McGinnis. "It's important to the Canadian banks to keep attracting the right customer so the range of loyalty programs continues to expand."
So too are banks enhancing their rewards offerings. "Depending on where a consumer shops, some rewards plans will let them earn points faster and some of them will let them redeem points for a better value depending on their personal choices," says McGinnis. "There are significant opportunities for valuable rewards to be earned by consumers in their market if they take the time to sit down and look at the plans and figure out which is the one that best suits them."
But that's not all. While the 'Big Five' Canadian banks hold leadership positions in the credit card market, they face steep competition by second tier domestic financial firms, the subsidiaries of major foreign banks, and by card market entrants from the retail sector, including the new Walmart Bank Canada. All the more reason for Canadian consumers to look to today's highly competitive credit card market for fresh opportunities and potential savings.
Published September 2, 2010
Most recent Research / Statistics Stories