Can Canada Credit Fix repair your credit score?
You have a delinquent account on your credit report, your credit score has taken a beating because of missed payments, or you filed for bankruptcy or a consumer proposal. You're desperate to repair your broken credit score, but can Canada Credit Fix do more to fix the damage than you could do yourself?
Not everyone is convinced.
The Calgary-based company calls itself the nation's No. 1 credit repair agency, and it markets itself aggressively as being able to erase years of credit damage.
"You'd be amazed at what kind of messes people can make of their credit ... we get the customer after they've made the mess, after they tried to cut a deal with the creditor but didn't get it in writing, or paid money to collectors," says the company's president Sheldon Wolf. "The stuff we see in a day, it's mind-boggling."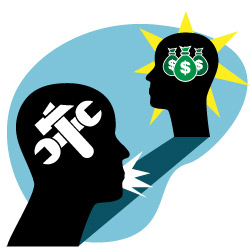 Debt and damaged credit can indeed be mind-boggling, but can the credit slate be wiped clean easily? Scott Hannah, president of the national Credit Counselling Society, says the credit repair company may be offering false promises.
"There's no quick fix, there's no magic wand," he says. "The only thing that can improve a credit score is paying your bills and on time, so for a lot of consumers who had challenges in the past, it's a waiting game."
Here are some examples of what Canada Credit Fix claims it can do to help your cause - and the truth behind them:
The claim: "Fix, clean and repair your bad credit report."
That enticement is from a posting on the company's Facebook page. Another online ad asks, "Want those collections, judgments or even that bankruptcy to fall right off your credit report?"
The truth: There are no "loopholes" or special laws that enable credit repair companies to remove valid information from your credit report, according to Industry Canada's Office of Consumer Affairs.
If the information is correct, it'll stay on your report for about six to seven years, depending on provincial rules, Hannah says.
Wolf says he takes on two types of clients: those who "deserve" the bad credit they have because of poor spending habits, and those who have dealt with personal hardships, such as health woes, loss of a job or identity theft. If it's identity theft that's hurt a client's credit score, his company will try to vindicate clients to regain lenders' trust.
However, Hannah says if there is misinformation on your credit report, you can appeal to credit reporting agencies -- Equifax and TransUnion -- on your own. If a personal hardship interfered with finances, you can put a statement on your credit reports to outline what happened.
"I don't advocate for paying for a service when you can comfortably do this yourself," Hannah says. "You can dispute all the information that's derogatory on a report, but if it's true, they won't remove it."
Wolf says not everyone has the skills to successfully deal with credit bureaus or lenders. "The public is unfairly uneducated. I wish it wasn't this way," he says.
The claim: Boost your personal credit score.
"Canada Credit Fix was able to help remove both a foreclosure and a judgment from my credit report. My score has jumped from 590 to 714 in less than 45 days." That excerpt is one of many testimonials on the company's website.
The truth: Hannah says this steep jump is a near-impossible feat.
"It's highly unlikely unless the information was beyond the statute of limitations, or it wasn't accurate," Hannah says. "That's a huge jump. It tells me there was a huge mistake there, but other than that, you can't see a change like this."
Wolf says he helps clients in a two-pronged approach to garner these results: through getting misinformation removed on a report and by helping people establish new credit with payments they can handle.
"That goes a long way," Wolf says.
However, rebuilding your credit through on-time payments and other good behaviour will likely take you longer than 45 days.
The claim: Pay 10 cents on the dollar.
"Cut your debts to 10 cents on the dollar" is just one example of the marketing buzz from a Canada Credit Fix infomercial on YouTube.
The truth: Wolf is adamant he can make this happen -- depending on how old the debt is.
"If a company knows they're going to be written off on a bankruptcy, they'd consider it," he says. "If the creditor knows they'll get nothing, they'll take what they can get."
Hannah agrees that this can happen, but in rare circumstances. At his agency, for example, a widowed senior was left with a maxed-out line of credit with a $20,000 balance. Her daughter was able to interject, offering the bank her savings as a lump sum settlement at about 10 cents on the dollar. The bank accepted in good faith.
"During those very unique circumstances that happens, but the reality is this is so rare, in most cases, you're going to find settlements in the neighbourhood of 40 to 60 per cent," Hannah says.
The bottom line:
Canada Credit Fix calls itself a "leader in the debt solutions industry providing innovative, progressive debt elimination solutions for Canadians coast to coast."
"We go through everything, we're comprehensive," Wolf says. "It's important the customer is part of the process and knows and understands why we're doing what we're doing." He says there is a company budget for pro bono cases, but clients can pay up to about $1,200 for services. And the website's wording makes this seem like a small price to pay compared to what you'll save.
"In many cases, errors and mistakes caused by creditors can cost you thousands of dollars, cause you to be declined for financing and sometimes even ruin your life financially. We can help you dispute both Equifax and TransUnion credit reports," the website's homepage reads.
You can do this on your own, though, the federal government's Office of Consumer Affairs (OCA) says in its own warning. The website states:
"Beware of companies that promise to help you re-establish your credit for a fee. Their ability to change the information that appears in your credit file is no different than anyone else's. Do not believe anyone who claims they can get negative information removed from your credit report faster than is legally required ... no credit repair company can do anything you can't do yourself."
Hannah reminds consumers that nonprofit credit counselling agencies will provide clients with a free consultation, along with a debt settlement program that costs far less than $1,200. Only 20 per cent of consumers who use the society's services pay a $75 fee for a customized debt repayment plan.
Hannah's advice is to do your homework before trusting a company's claims. Don't take its website's or brochure's content at face value. Instead, look at a company's Better Business Bureau ratings and check for other concerns online, and seek free help where possible.
See related:
5 common credit score mistakes
,
Errors on your credit report? Here's how to correct them
,
How to find a good credit counselling agency
Published July 29, 2016
Most recent All credit card news Stories