Is Canada's recession nearing the end?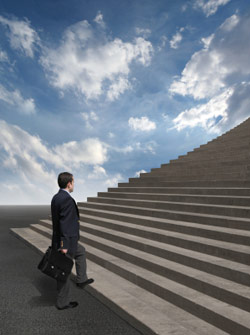 Canada's painful recession appears to be nearing its end, if the results of a recent survey are anything to go by. According to an article from
The Canadian Press
, experts from the Conference Board and the Bank of Canada predict the economy is due to improve within the next 12 months.
In a summer survey done by the Bank of Canada, 61 percent of leading executives were optimistic that the recession would end this summer; 37 percent of them are planning to start hiring over the next 12 months. Both the Bank of Canada and the Conference Board suggest that a slight turnaround is just around the corner.
Real estate companies have summer sales, and employed homeowners continue to take advantage of decreased housing prices and attractive financing rates, according to the survey.
However, economists such as Douglas Porter, deputy chief economist with BMO Capital Markets, continue to debate whether the recovery will come quickly or gradually.
Peter Antunes of the Conference Board revealed that while he is optimistic, deeper recessions cause the economy to underperform for years to come. He predicts, "We don't have normal output capacity being achieved until 2013, even with 2.7 percent growth in 2010, and much stronger growth in the 3.5 percent to 4 percent range in 2011 and 2012." The Conference Board says that Canada will benefit from the provincial and federal stimulus dollars.
From those words, it appears that looking at the greater picture of a loss of 370,000 jobs since last October, the recovery rate will be anything but rapid. Antunes says that job losses should stop by the fall of this year, although even more jobs will continue to be lost into 2010. Antunes says that the jobless rate will peak at 9.3 percent in the spring of 2010.
It takes time to allow businesses to restructure and start the hiring process. Consumers will then focus on their debts. Once consumers rebuild their savings and retirement accounts, consumer confidence will be stronger, and they will be ready to start spending again.
Written by Melanie Dixon.
Published July 22, 2009
Most recent All credit card news Stories