Mobile banking poised to skyrocket in Canada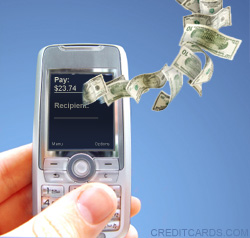 Mobile banking may have gotten off to a slow start in Canada, but with free mobile apps and cheaper data plans, usage may really take off over the next few months. Experts predict that industry changes could make mobile banking even more popular than Internet banking.
Right now, less than 10 per cent of Canadians conduct banking on their mobile phones, according to research conducted by Boston consulting firm Mercatus.
Traditionally, Canada has embraced new technology such as Interac debit cards, but with the high expense of data plans in our country, mobile banking usage has been sluggish. Canadians pay more than most other countries for Internet data usage on their mobile phones. Also, Canadian usage of cell phones hovers around 70 per cent, with only a small percentage using smart-phone technology.
With the advent of new mobile phone competitors in the telecom industry, cheaper data plans should be offered in the coming months.
"We're at the tipping point in terms of adoption," says Mercatus managing partner Bob Hedges. "Over the next five years, this will become more important than online banking."
According to the Mercatus research, 20 per cent of Canadian consumers plan to start using one within the next year. People between 18 and 25 are the biggest users of the technology.
The first major bank in Canada to launch an iPhone application has been Canadian Imperial Bank of Commerce. Other smart phones already have mobile banking options. CIBC believes that the market will expand to include users in their 40s and 50s as these age sets already use their smart phones for multitasking.
Canada follows closely behind the U.S. in adopting mobile phone banking, but both are significantly behind when compared to other progressive countries. The Mercatus research indicates that Canada is poised to accept mobile banking once the applications are ready to download. It is anticipated that mobile banking will remain free, while the banks attract new customers and save on other expenditures.
Written by Melanie Dixon.
Published March 26, 2010
Most recent Product Features Stories