Mobile wallet market still disjointed
The dream of leaving your wallet at home and storing your money, your credit cards and your loyalty cards on a mobile wallet application is still very much alive in Canada. However, no mobile solution has been widely embraced. That's because many of the available applications are exclusive to one of the big five banks and only work with their credit cards, on certain operating systems on certain devices.
"Instead of designing based on the best user experience for consumers, banks have gone with traditional waterfall thinking, which says, 'We're a bank and we want people to use our cards,'" says Humza Teherany, chief innovation officer at Compass Group Canada, part of the world's largest retail, hospitality and support services company. "And you've got to sign up merchants to do that. It's a big complex solution that has to come together."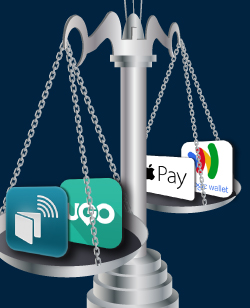 As a result, the mobile wallet market has stayed fractured. Different apps only work with certain banks, telecommunications companies or devices. None are fully functional with iPhones, due to Apple security features and its vetting process for programs. The rumoured launch of Apple Pay in Canada in November 2015 may finally prompt the banks, telcos and retail giants to work together on a cross-compatible mobile wallet, but for now, there are only a couple of major players on the market -- and they still have limitations.
Suretap
Suretap was initially a division of Rogers Communications, but has operated as a separate entity as a partner of Canada's three largest telecom companies -- Rogers, Bell and Telus -- since 2014. It works across all of their devices in addition to the ones on the Koodo Mobile, Fido and Virgin Mobile networks.
It also partners with CIBC, so all CIBC debit and credit cards can be stored on it. It works with all existing contactless terminals across the country, including MasterCard PayPass and Visa payWave. Consumers can use suretap at 30 different retailers, including Forever 21, Indigo and Cineplex Odeon.
"We looked at the suretap mobile wallet and it was another opportunity to give choice to our customers and be where they are," says Brenda Clark, vice-president of Payments Innovation and Integration.
CIBC also has had its own mobile wallet -- CIBC Mobile Payment App -- since 2012. It is also available through the three major carriers on the same platforms and devices as suretap, but purchases can be tracked on a CIBC bank statement. CIBC Mobile Payment and suretap can both be used internationally.
In addition to CIBC, more major banks are rumoured to be coming to suretap in the future, which will be crucial if it will compete with Apple Pay and Android Pay when they finally get here.
"Apple Pay and Google Pay will be cross-platform, so the benefit to the consumer is ... it won't matter what card you have with what bank, you're going to be able to load your cards in there and pay with your phone," says Teherany. "What suretap did is quite smart for the Canadian marketplace because they're making that [convenience] available now."
But both CIBC and suretap insist that this sudden spirit of cooperation has nothing to do with their pending competition and everything to do with putting the customer first.
"Our motivation is more to give our customers choice," says Clark. "We are aware of Apple Pay and Android Pay in the U.S. and we would also look to assess those and determine whether we want to be in those."
UGO Wallet
UGO Wallet is available on iPhone, BlackBerry and Android, but only the latter two allow users to make payments through the app. iPhone users can only use the wallet for storing and redeeming loyalty program rewards and gift cards.
"Mobile wallets are catching on but it takes time to build infrastructure and acceptance across the elements of the digital payment ecosystem," says Salim Jivraj, chief operating officer of UGO Mobile Solutions LP. "For consumers, using a mobile wallet is a significant behaviour change."
UGO has partnered with Toronto Dominion (TD) Bank and President's Choice (PC) Financial, so if you've got the right device, you can load all TD's Visa cards onto it and use them to pay for purchases. However, for PC Financial MasterCard holders, only Android and BlackBerry phones on the Rogers Wireless, Telus Mobility and Koodo Mobile Networks can make payments via UGO.
Despite these limitations, UGO still believes it is well-positioned to be a leader in the Canadian marketplace, Jivraj says.
In any case, Teherany maintains that the mobile wallet that's the easiest to use will become the dominant player in Canada.
"Today, even though I can do suretap, it is still quicker to take my credit card out and tap my plastic," he says. "So, until I can just put my phone on the terminal and I've paid [with any card, not just specific ones] -- something Apple Pay already does - [a physical wallet still reigns]. The user experience is what wins and mobile wallet applications in Canada are not yet capitalizing on the technology in a way that will create that killer app."
Apple devices left out -- for now
The reason the payment features of all mobile wallet apps in Canada are only available on BlackBerry and Android phones has to do with the way contactless payments are processed and secured.
It's easier to build mobile wallet apps for Android and BlackBerry than it is for iPhones because the Apple products have an additional layer of security (tokenization) and, on newer phones, a fingerprint reader. Apple also vets its apps a little more thoroughly than Google and others.
"When leveraging so much hardware, you can make use of things like tokenization, so your credit card isn't stored anywhere and is encrypted, which is the most secure way to do it and Apple has kind of locked that piece off," says Teherany.
See related:
Peer-to-peer payments vie to make wallets a thing of the past
,
6 milestones to widespread in-store mobile payments
Updated November 15, 2016
Most recent Product Features Stories