Card scams don't deter online shoppers
Canadians may be flocking to the Internet to purchase everything from designer shoes to cosmetics, but concerns about online credit card use still abound.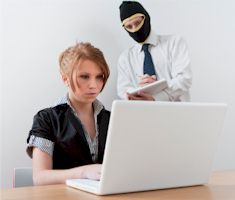 Canadians spent more than $15 billion online last year, up from $12.8 billion in 2007, according to a new report from Statistics Canada. The uptick is the result of a growing number of online shoppers and a higher volume of orders. What's more, 52 percent of Canadians went online to "window shop," that is, to research or browse products -- up from 43 percent in 2007.
But while the vast majority (84 percent) of online shoppers paid directly over the Internet for some or all of their purchases, nearly half of all Canadians, whether or not they shopped online, reported being very concerned about online credit card use. Among the most concerned: 61 percent of those who have never surfed the Internet. Still, a whopping 57 percent who reported using the Internet for less than five years also expressed fear.
That's no surprise to Cam Johnston, president of WhiteHat Inc., a Toronto-based provider of mission-critical security software and hardware. Cyber scams can easily turn a carefree shopping spree into a financial nightmare, especially for those who choose to pay for items with a credit card.
"When it comes to credit cards, I don't think consumers are really paying severe enough attention to security breaches," says Johnston.
So what should consumers look out for? According to Johnston, phishing is "the biggest threat and will continue to be for the foreseeable future." That's because, he says, phishing scams "redirect consumers to fake Web sites that may look like the store you want to be going to, but only aim to capture your credit card number or other personal information."
Another common online hoax: being asked to verify your account. If you're asked to submit a password, login name, Social Insurance number, credit card number or other personal information through email, chances are, it's a scam, warns Johnston.
And then there are Trojans, "more sophisticated attacks that implant a program onto someone's PC or laptop and then capture certain information" such as a credit card number, according to Johnston.
Fortunately, there are steps Canadians can take to protect themselves -- and their credit cards -- from cyber scams. Advises Johnston: "The best way to protect yourself from a Trojan is to keep your virus scanning software absolutely up to date."
Secondly, while online payment services such as PayPal help consumers avoid handing over their credit card numbers, Johnston says online shoppers should never be lulled into a false sense of security. After all, he points out, PayPal has been spoofed in the past by look-alike services run by ill-intentioned hackers.
In the end, Johnston says the wisest rule of thumb is to "hand over your credit number only to merchants that you know to be reliable and safe."
Published October 14, 2010
Most recent Legal, regulatory, privacy Stories