Head to the blogs to attain financial freedom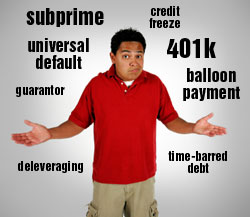 These days, blogs promising to help you save money, cut costs and reduce debt are a dime a dozen. From best-selling authors to stay-at-home moms, it seems that everyone has something to say about making ends meet. But while many blogs offer free-of-charge advice from financial gurus, sites run by everyday Canadians are earning scores of fans. It's easy to understand why.
"My aim is to entertain readers while giving them something serious and meaningful to think about," says Kerry Taylor, whose blog, Squawkfox offers easy-to-digest, cost-cutting tips on everything from cooking to home décor. "Saving for the future, paying off debt, and managing a budget can make for dry reading, so why not infuse some fun into these topics and give people a laugh."
That light-hearted approach to heavy topics like debt and foreclosure has earned Squawkfox an impressive 14,000 subscribers and industry accolades including a nod as one of Canada's best financial blogs by the Globe and Mail.
But while Taylor says that personal blogs allow readers to "identify with a real person" while "corporate sites often lack that human connection," personal finance blogs should always be read with a certain amount of scrutiny.
"Whether the advice is given from a close relative, a newspaper, a book, a television show or a blog, readers should weigh advice from any source before doing a financial overhaul," warns Taylor.
Here's a sampling of some of the top finance blogs helping Canadians better manage their money:
Squawkfox
Whether it's preparing for a natural disaster or cheap ways to stay cool without air conditioning, Kerry Taylor, author of "397 Ways to Save Money" offers quick and easy-to-read tips on living simply and investing wisely. Taylor writes from personal experience: She paid off $17,000 of student debt in six months.
Ellen Roseman 'On Your Side'
Personal finance and consumer issues columnist with the Toronto Star's business section, Roseman writes a no-nonsense blog covering consumer affairs and personal finance topics. Entries span from making heads or tails of mortgage penalties to Canadian Tire overcharging customers on eco fees.
A Dawn Journal
Author A Dawn tackles personal finance, investing, saving and entrepreneurship from a distinctly Canadian perspective. Dawn is a City University of New York Economics graduate and a former financial adviser who now works as an analyst for a major Canadian wealth management corporation. Topics tend to lean toward the more nitty gritty aspects of personal finance with talk of exchange-traded funds and pension plans.
Canadian Personal Finance Blog
This blog is written by a father of four who goes by the blogging alter ago Big Cajun Man. But don't let the funny nickname fool you. The site is serious about addressing employment rates, retirement savings plans and financial goals.
Published July 23, 2010
Most recent Product Features Stories