Canada's best personal finance books
It never hurts to brush up on your personal finance skills with a decent read. Fortunately, the pickings aren't as slim for Canadians as they once were.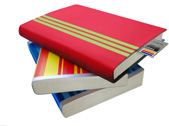 "Years ago, I found there was a shortage of really good books that were specific in the advice that they gave to Canadians," says Margot Bai, author of "Spend Smarter, Save Bigger: Finding BIG savings in your Home, Mortgage, Vehicles, Insurance and Investments." "So I wanted to write a book that gave Canadians really practical and specific advice about the way money works in Canada and the opportunities that people can take advantage of here like government programs."
Bai's book joins a growing list of publications that aim to help Canadians tackle their personal finance issues and navigate the nation's distinct financial and tax landscape. CreditCards.com reviewed some of the more highly recommended books that promise to help you get your finances in order.
1. Spend Smarter, Save Bigger: Finding BIG savings in your Home, Mortgage, Vehicles, Insurance and Investments (White Knight Publications)
By Margot Bai
Newly married and with $20,000 in student loans, Bai and her husband faced the daunting task of paying off their debts while trying to save enough to buy a home of their own. Today, she shares her experiences -- and plenty of solid advice -- using stories to bring financial principles to life on topics including mortgage payments, purchasing a car and easy investing.
2. The Complete Idiot's Guide to Personal Finance for Canadians (Prentice Hall)
By Lori M. Bamber
A Canadian classic, this finance guide delves into the subjects of investing, mutual funds, retirement and insurance. From writing your own financial plan to maximizing your tax returns, this book dishes out indispensable advice and illustrates steps to successful investment strategies and debt reduction. Sidebars and expert tips especially make for easy reading.
3. The Pension Puzzle: Your Complete Guide to Government Benefits, RRSPs, and Employer Plans (Wiley)
By Bruce Cohen and Brian Fitzgerald
Despite the fact that millions of Canadians are covered by pension plans, very few truly understand how these complex and confusing financial tools work. Enter "The Pension Puzzle" - an owner's manual for anyone with a pension plan. This book walks readers through the decision-making process about their pension plan and how it affects their financial future.
4. Shell Shocked: How Canadians Can Invest After the Collapse (Wiley)
By John R. Stephenson
Written by Bay Street veteran John Stephenson, this book offers Canadians detailed, fact-based analysis regarding what to buy and when to buy it in today's evolving investment world. The time is ripe for this read as the nation emerges from a global recession.
5. You Can't Take it With You: Common-Sense Estate Planning for Canadians (Wiley)
By Sandra E. Foster
Foster's book tackles one of the most pressing financial planning issues of the decade: estate planning. As aging Canadians prepare to transfer their assets to the next generation, "You Can't Take it With You" covers all areas of estate planning including financial and tax planning, wills and powers of attorney, life insurance and funeral planning.
Published September 24, 2010
Most recent All credit card news Stories