Canada's tight credit outlook still dim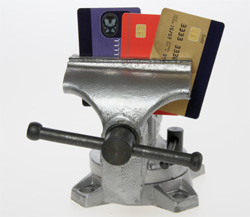 Personal loans, including lines of credit and credit cards, continue to be drag down TD Bank's loan portfolio, with the level of bad commercial loans expecting to also rise within the next quarter.
While the economy is slowly pulling free of the recession, TD Canada Trust said that it is not optimistic about loan repayments from its personal or business clients anytime in the near future.
"We continue to have nominal losses in the real estate secured lending -- the largest, by far, segment of our loan book," said Tim Hockey, chief executive of TD's Canadian Operation.
Hockey added, "The areas of vulnerability continue to be the unsecured personal portfolio: lines of credit and credit cards. There will likely be a trend in this direction in these portfolios until we see sustained turnaround in the economy."
Bad loans have forced Canadian and global banks to set aside extra money to cover these debts, as people and businesses have defaulted on their loan repayments.
While TD hasn't suffered through the summer, provisions for credit losses from consumers and businesses have been increased. Despite the trend, they have managed to turn a profit throughout the year.
Analysts expect that loan losses will level off in the following quarters; however, credit problems may last well past the economic downturn, with consumers and businesses alike struggling to pay off debts for the next few years. Further losses are expected until the recession is officially over.
According to Hockey, TD Bank has kept its lending book under reasonable control; however, troubles could still be brewing. He was still optimistic that there would be few major problems.
Surprisingly, most Canadian banks reported stronger-than-expected third quarter earnings from August, and are bracing for an optimistic fourth report in early December.
Published October 28, 2009
Most recent All credit card news Stories