More Canadians unable to repay credit card debt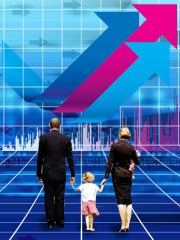 The number of Canadians unable to repay their credit card debt reached
record levels
, increasing by nearly 60 per cent compared to last year, according to Moody's, a financial research and risk analysis firm.
Credit card charge-offs jumped to 4.8 per cent, up substantially from this time last year, when the charge-off rate was 3.07 per cent. A charge-off occurs when a bank deems an unpaid balance as uncollectable and strikes the debt from its records. High charge-off rates usually correlate with a foundering economy. With unemployment and personal bankruptcy on the rise, credit counselors are expecting consumer nonpayment to continue.
"What we are seeing here is definitely higher debt loads -- but more frighteningly -- the serious inability to pay this debt," said Laurie Campbell, executive director of the credit counseling agency Credit Canada, in a press release.
The number of delinquent accounts, or accounts on which payment is more than 30 days late, rose by 23 per cent compared to last year. However, the delinquency rate lowered to 2.82 per cent compared to the first quarter of this year, when the delinquency rate was 2.9 per cent.
Analysts cite other good news. Credit card debt is not increasing as quickly as it has in the past. The country's cumulative balance rose only by $800 million over the course of a five-month period. As of June, the total Canadian credit card debt is about $69 billion.
"The pace of deterioration is slowing down," said Sumant Inamdar, senior analyst at Moody's, in a press release.
However, Campbell says the decrease in Canadian card use is the result of banks' inability to grant more credit to already-indebted consumers.
"They're tapped out," Campbell said. "They can't get more credit. The banks are shutting off the stream of credit because their losses are so great, which is one of the reasons that debt load has not increased."
Published October 2, 2009
Most recent Research / Statistics Stories