Canadians' debt load reaches 11-year high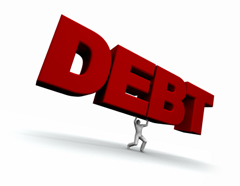 The average Canadian is carrying an astounding $96,000 debt load, according to a Vanier Institute of the Family study.
The report also found that there was an increase in late debt payments, though Canadians were still able to save some money. Debt-to-income levels for Canadians have also risen; 2009's is the highest ever recorded in the 11 years the study has been conducted.
Particularly worrying was the revelation that there was a 50 per cent rise in mortgage payments that were at least 90 days late, as compared with 2008. For overdue credit card payments that were three months late, there was an increase of 40 per cent.
According to the study, first-time mortgage buyers were hit hardest, taking on the highest rate of debt. In fact, those in recent years who have taken advantage of the record lows in interest rates could be the ones suffering most if the interest rates rise, preventing many more from making payments.
According to a study conducted in September 2009 by the Canadian Payroll Association, two-thirds of Canadians 18 to 34 would be plunged into financial chaos if they found themselves without a paycheque for a single week.
The only glimmer of hope from the study was that Canadians have been able to set aside a portion of their paycheques since the recession began. The personal savings rate rose from 2 per cent to 5 per cent over the past four quarters.
The report claims that Canadians have adjusted their financial attitude and behaviour.
On Feb. 16th, Finance Minister Jim Flaherty announced tighter mortgage regulations for Canadians. It will be increasingly harder to qualify for a mortgage, with lenders requiring larger down payments and higher incomes.
Whether it is good for Canadians to fork away cash when they should be paying off their debts remains to be seen.
Written by Melanie Dixon.
Published February 24, 2010
Most recent Research / Statistics Stories