Perks and pitfalls of buying across the border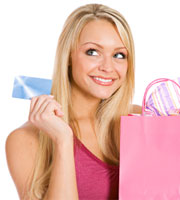 For the first time in almost two years, the Canadian dollar has gained parity with the U.S. greenback. With the loonie likely to trade higher than its U.S. counterpart for months to come, many Canadians are wondering how best to maximize the benefits of a powerful dollar. Here are just a handful of the investing and spending opportunities savvy Canadians would be wise to consider.
Thinking of a south-of-the-border shopping spree? Well, try sticking with credit cards that don't carry a foreign transaction fee for purchases made abroad. A close look at your card's fine print may reveal fees on all foreign currency charges to cover the expense of converting your purchases back into Canadian dollars.
Open a U.S.-dollar account and partner it with a U.S. dollar credit card. That way, you can pay your credit card bills without getting slammed with the 2.5-per-cent currency conversion fee that most financial institutions charge when you use their cards to buy items in foreign currencies.
Don't overspend. While it may be tempting to run up your credit card on a cross-border shopping spree, it still requires parting with your hard-earned dollars. So before you step foot inside that outlet mall, be sure you establish a spending limit.
You may wish to rack up plenty of low-priced items while shopping in the United States, but remember that duty fees can offset savings. Visit the Canada Border Services Agency website to find out about personal exemptions and what fees you'll be required to pay if you exceed your exemption limit.
Before you squander your high-flying loonie on designer shoes and housewares, consider sending money to your family overseas. In countries where currencies are tied closely to the U.S. dollar, your family members will be able to stretch the value of the loonie a lot further.
Handing over your credit card to U.S.-based e-tailers can make for some cost-effective online shopping. But exorbitant shipping and customs brokerage fees can make online purchases cheaper to purchase back home. Always do the math before filling up your Web-based shopping cart.
Forget about Europe. Make the most of a strong Canadian dollar -- and cheaper gas prices, by making your next vacation a cross-border road trip.
Canadians love cottage life, but now's the time to consider purchasing a retirement home or vacation abode down south. Not only will your dollar go further these days but there are plenty of great deals to be had thanks to a beleaguered U.S. real estate market.
Published April 30, 2010
Most recent Shopping Stories