How the economic downturn affects Canadians' household debt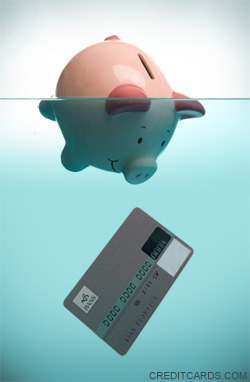 A new study reveals that Canadian debt has exceeded $1 trillion Canadian, with no end in sight. Fortunately, there are ways you can weather the recession without plunging into debt yourself. Even though the current economic crisis originated in the United States, it quickly spread to most of the world. A new study from the Certified General Accountants Association of Canada, "
Where Has the Money Gone: The State of Canadian Household Debt in a Stumbling Economy
," reveals that Canadian household debt reached the sum of $1.3 trillion Canadian in 2008.
According to the study, Canadian families are slipping farther into debt as they rely on credit cards, payday loans and lines of credit to make ends meet. Most households fall into one of three categories. Those that:
Need to spend all of their annual income each year.
Manage to save some money each year.
Spend more than their net income.
Unfortunately, the percentage of households that spend more than they earn is increasing at an alarming rate.Consider these statistics from the study:
Household debt is at an all-time high reaching $1.3 trillion in 2008 and the escalation of debt is primarily caused by consumption motives rather than asset accumulation.
Lines of credit and credit cards account for the largest proportion of consumer debt, with 85 per cent of indebted Canadians reporting that they have outstanding debt on a credit card.
A large proportion of Canadians acknowledged their debt as increasing. The proportion of respondents with rising debt went up from 35 per cent in 2007 to 42 per cent in 2008.
Up till now, most financial experts thought that an increase in consumer spending would revitalize the economy and lead us out of this recession. But in light of the recent study, it seems a shift is taking place. Instead of spending our way out of an economic downturn, we should try to save our way out, experts say. In these uncertain times, when employers are freezing wages and laying off people in record numbers, savings are one of the best ways to maintain financial security.
Credit card debt
The most worrying trend is Canadians' reliance on credit cards during this time of need. When relying on credit, of course, you are spending money you really don't have. Over time, the interest rate will grow and grow. That means that when there finally is an upturn in the economy, you will not be able to enjoy it because you will be paying down your huge credit card debt. Payday loans are another very expensive solution, but many feel it is their only alternative.
There are ways to avoid debt, and that's by spending less. Canadians are cutting back and buying fewer new cars, traveling less, eating out less, buying second hand and buying in bulk. Writing a monthly budget and sticking to it can help to eliminate the impulsive purchasing of unnecessary products and services. Trading and bartering are becoming more popular, too. There are many new websites that offer 'barter bucks' as an alternative to spending money.
Some people feel they are spending less by paying for everything they can with credit cards that offer air miles or reward points, and then shopping at retail outlets where they can pay for items with the points they have earned.
However, the best way to weather the financial storm is to:
Set realistic goals.
Reduce expenses any way you can to avoid increasing your household debt.
Try to pay down any debt you have.
Set aside a small amount for savings.
Do these things and you won't have to worry about how you will cope with unexpected expenses if they do arise.
Determination is the key. The Canadians who develop strategies for successfully managing debt will succeed despite hard times, and will also become wealthier when fiscal balance is finally restored.
Written by Christopher Ibotrain.
Updated February 11, 2013
Most recent Research / Statistics Stories