Canadians can legally purchase U.S. Netflix -- for now
In a world where it seems like no one watches TV unless it's available via streaming, Netflix arguably sets the standard for exclusive and original content. However, while Canadians can enjoy Netflix, they don't enjoy it half as much as Americans -- literally. American subscribers get more than double the programming when compared to the Canadian version (10,000 titles versus 4,000 titles).
American Netflix is so coveted, one 2014 study indicated one in three English Canadian subscribers are masking their Internet Protocol addresses in order to access it. This is the only way to access this content from across the border, since content is based on where you're connecting to the website from. Even paying for your service with a card with a U.S. billing address or a U.S. bank account doesn't make a difference if your IP address is in Canada.
Many Canadian viewers use Toronto-based UnoTelly, a subscription service that uses virtual private networks (VPNs) and SmartDNS proxy servers to mask its customers' IP addresses for as little as $5.00 a month. UnoTelly previously worked with PayPal to provide convenience for users. But the payments company got cold feet and cut off that option because UnoTelly's services could be used to facilitate copyright infringement.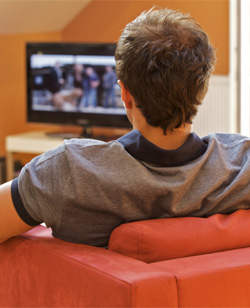 Legal, or purely competitive?
On Feb. 3, 2016, PayPal withdrew its payment processing services from UnoTelly. PayPal's move came a few weeks after Netflix announced it was launching new countermeasures to crack down on these types of proxy services. PayPal determined UnoTelly's services were a violation of the payment processor's acceptable use policy.
However, UnoTelly contends that it doesn't violate any laws. After all, it only provides the technology to make your online location private; it's up to you how you use it.
"UnoTelly is a service that protects users' rights to location privacy," Nicholas Lin, UnoTelly's founder, said in an e-mailed response to questions. "There are no laws or case law that we are aware of that outlaws location privacy services."
Canadian e-commerce expert Michael Geist agrees. "The problem is primarily a competitive issue, not a legal one ... [The] claim that the minority of Canadian subscribers who access U.S. Netflix through VPNs are 'stealing' simply does not withstand legal scrutiny," he wrote in a blog post on the issue. "Those subscribers might be breaching the Netflix terms and conditions, but that is not breaking the law."
Since Canadian subscribers have to have a Netflix account to have access to the service at all, Geist points out that Netflix is being compensated no matter where the content is coming from.
"Arguments that the subscribers violate copyright law are very weak," Geist wrote. "There might be claim that subscribers circumvent geographic restrictions (thereby violating new rules against circumventing technological protection measures), but there are no damages involved and it is up to Netflix to enforce its rights to counter the circumvention. Since there is no chance the company will sue its customers, the focus on legal remedies is misplaced."
PayPal's actions may be first in potential bigger movement
Lin believes Paypal's actions foreshadow what's to come if the Canadian government ratifies the Trans-Pacific Partnership (TPP), a new global trade agreement that carries a sweeping definition of copyright infringement.
The TPP applies criminal charges to copyright infringement on a commercial scale, but since such a scale is based on the number of customers the offending article reaches, anything distributed or accessed online is considered "of commercial scale."
"The TPP strips away the rights of citizens and sovereign nation in favour of rights of powerful
multinational corporations. Canadian's digital rights will be significantly restricted under TPP. Many things that are legal in the current Canadian laws would be illegal under TPP," said Lin who is now pursuing legal action against PayPal.
For now, though, it's business as usual at UnoTelly and Lin assures customers that existing service will not be adversely affected and that customers will not pay extra for using alternative methods of payment.
"Customers are encouraged to use alternative payment methods such as debit cards, bitcoin and credit cards," said Lin. "UnoTelly is sustainable and will continue to deliver quality to services to our customers."
Published February 26, 2016
Most recent Legal, regulatory, privacy Stories