Canadians using savings for holiday spending
When it comes to subsidizing holiday gift-giving, more Canadians are opting to dip into their savings than accrue more debt, according to a recent ING Direct Canada study. The financial institution found that a whopping 71 percent of Canadians plan to use their savings for purchases this holiday season, as opposed to adding debt.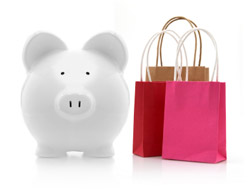 But like any unfortunate binge, the New Year should ring in a renewed commitment to building one's nest egg. When asked about financial New Year's resolutions, the ING Direct study revealed that 25 percent of respondents said their top goal was to save money. Another 19 percent plan to pay off their credit card and 18 percent plan to stick to a budget.
But while dipping into emergency or retirement funds to purchase gifts, only to regret it in early 2011, sounds ill conceived, ING Direct Canada's president and CEO Peter Aceto says there are ways for Canadians to maximize their savings -- even if a portion of it goes towards gifts.
"The first step is to open a high-interest savings account," recommends Aceto. "Depending on what you're saving for you may also want to take advantage of the benefits of a Tax-Free Savings Account or a Registered Retirement Savings Plan."
But that's not all. Replenishing your savings and paying off credit card debt post-holiday season takes more than strategy. "Will power, dedication, optimism and patience are all strong attributes you will need to reach your financial goals," warns Aceto. "If you already have a credit card balance, don't add to it and accelerate your payments as much as possible. Use a cash or debit system and spend within your means."
That's easier said than done, though, given that the ING Direct survey also found that 33 percent of Canadians will spend between $501 and $1,000 on holiday-related purchases and activities during the holiday season. "Just like Santa -- make a list, check it twice and stick to it," says Aceto. "Holiday expenses can really add up. Holiday wrapping, extra groceries, alcohol, travel and parking are just a few expenses we may often overlook during the holidays."
For this reason, Aceto says the wisest course of action is to simply save throughout the year and be realistic about what you can afford to spend. "Taking funds from the savings you had earmarked for retirement, your home or other goals may have a long-term impact," he says. "Using your credit card is a convenient way to shop, but only if you have the money saved up and can pay it off in January. No matter what time of year, it's always best to spend within your means."
See related:
Card scams don't deter online shoppers
,
Debt-relief remedies for plastic-loving Canadians
Published December 8, 2010
Most recent Shopping Stories