Canadians turn to plastic in times of trouble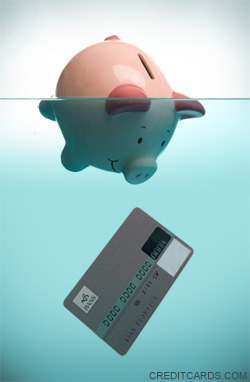 Canadians are more likely to turn to credit cards in times of emergency than citizens in 14 other countries of the world, according to a
survey
on household financial stability.
Twenty-eight per cent of Canadians said they would finance an emergency with a credit card, while 13 per cent would use a home equity credit line or second mortgage. While only 8 per cent of Germans would use a credit card, they tied with Canada with 13 per cent willing to apply for a home equity line or second mortgage. Luxembourg was next in line to Canada with 27 per cent being agreeable to using a credit card, and only 6 per cent of the Dutch were as agreeable.
The United States and the United Kingdom have a 20 per cent willingness to use credit.
The TNS Personal Risk Assessment and Risk Literacy Study was conducted between June and September 2009. The survey asked 14,600 people in 15 countries whether or not they could find $2,000 (or equivalent in their countries' currencies) in an emergency, whether for health care costs, car or home repairs, and exactly how they would find the money.
Rhonda Grunier, director of financial research at TNS, said in a release that while credit is extremely simple to obtain in Canada, it is a poor choice to take on additional debt. Canadians have been encouraged to save money into RRSPs, but are obviously reluctant to cash them in due to tax complications.
Canadians are confident in their ability to attain the funds quickly, with 68 per cent saying they could meet the deadline. Eighty-nine per cent of citizens from Luxembourg were at the top of the poll, believing they could get the money quickly.
Countries at a low confidence level were Mexico (41 per cent), the United Kingdom (44 per cent), the United States and Germany (both 46 per cent).
Those Canadians not choosing to use a credit card would dip into their savings account at 52 per cent. Luxembourg (86 per cent) and Netherlands (89 per cent) would be willing to cash out their savings.
The most financially confident region of Canada is British Columbia (76 per cent), with least confident lagging behind in the Atlantic provinces (57 per cent). Thirty-one per cent of people in B.C. are also eager to use credit cards for an emergency.
Men in Canada are 75 per cent more financially confident than women at 62 per cent.
The other countries surveyed had negligible results with fewer than one in 10 willing to use a credit card to fund an emergency.
Written by Melanie Dixon.
Published November 23, 2009
Most recent Research / Statistics Stories