Cash back rewards cards reign supreme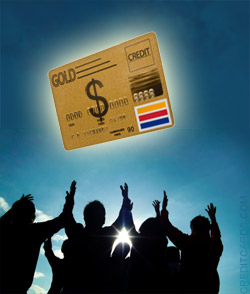 When it comes to credit card rewards, cash back is king, according to a recent RBC poll. RBC's payment survey conducted by Ipsos Reid, found that one-third (33 percent) of Canadian cardholders prefer cash back over any other type of incentive, including merchandise (27 percent) and travel rewards (23 percent).
"In today's economic climate, it seems that many Canadians prefer a reward that is more tangible and doesn't require a longer period of spending or waiting to give them something back," says Anna Judek, RBC's senior manager card products. "Consumers are looking for value and simplicity with their reward credit card and possibly a shorter time horizon to get back a reward."
In fact, Judek points out that RBC's survey found that two-in-ten reward cardholders sometimes forget to redeem reward points. "Getting cash back for purchases you make every day makes a lot of sense especially when it's automatically paid to you on an annual basis," she says. "With RBC's card, the cash back you earn pays down your balance in January which is a plus because this is usually a period of peak holiday spending."
Nevertheless, consumers argue that credit card companies need to offer cash back reward programs that are simple to navigate. "Our clients told us they don't want complicated earn rates, tiers or thresholds that they find confusing and misleading," warns Judek. "Many consumers are looking for a straightforward card that gives them cash back without having to collect or redeem points or join clubs."
Key features to look for in any rewards program include cash back on a wide variety of items including groceries and retail goods; purchase security; extended warranty insurance; and zero liability fraud protection.
What's more, consumers would be wise to consider the long-term benefits of cash back programs. Certainly, one percent cash back on all purchases may not seem like a financial windfall. But the cash back you receive can add up quickly based on your day-to-day spending habits.
The survey also found that more than half (58 percent) of Canadians hold a credit card with some type of reward program. Nine-in-ten credit cardholders (88 percent) say they pay for travel using their card and more than half (53 percent) use it to pay for retail purchases. Fifty percent indicate they use their credit card for dining, entertainment or gas purchases, while a third (34 percent) use it to pay for drug store purchases.
What's more, Canadian families spend an average $628 at the grocery store each month. The majority (53 percent) us their debit card at the cash register, with the others split between using cash (21 percent) and credit cards (26 percent) to pay for groceries.
Published June 30, 2010
Most recent Reward Programs / Cash Back Cards Stories