5 signs Canadians are not getting smart about credit card debt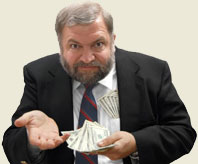 The numbers indicate that the amount that an average Canadian citizen owes on his credit card continues to go up, without any sign of it turning the other way.
The latest debt statistics indicate that Canadians continue to use credit cards as play money, hoping they will be able to pay for their debt in the near future, or blissfully ignoring the long-term consequences of carrying a high balance on a credit card. The numbers indicate that the amount that the average Canadian citizen owes on credit cards continues to go up, without any sign of the trend reversing.
The average card holder owes an average of $2,000 to credit card companies, which may sound like a manageable amount. However, when we consider that many card holders have lost their jobs, or have had their hours and rates of pay cut, that amount is a little more daunting. Doubtless this rate will continue to climb as they struggle to make their minimum monthly payments.
Here are five signs that Canadians are not getting smarter with credit:
1. In June 2009, there were 14,148 Canadian bankruptcies declared or proposed. This was a 51 percent increase over June 2008 numbers.
2. With the Canadian unemployment rate hovering around 7 percent and growing, and job growth only in low-paying jobs, there is no relief in sight for the hundreds of thousands of Canadians currently seeking work. Credit cards may be used to fill the income gap.
3. A large proportion of Canadians are acknowledging that their debt is increasing. The proportion of card holders with rising debt has increased since 2007.
4. Next to mortgages, credit cards account for the largest proportion of Canadian consumer debt. A whopping 85 percent of Canadians with reported debt say that they have outstanding debt on a credit card.
5. With a debt load, most Canadians see no point in placing savings in an account that promises a low return, preferring to pay down credit cards first. Over one-third do not bother placing any deposits into savings.
Canadians have no choice but to cut back on household expenses, to make living on credit go further than before. This means fewer purchases on the car lots, more "staycations" at home, eating out less while stocking up on frozen pizza and fast food dinners, buying bulk purchases at the big box stores, and perusing the second-hand aisles for bargains.
Unfortunately, while cutting back, the average Canadian will continue to turn to credit cards until the economy takes a turn for the better.
Written by Melanie Dixon.
Published September 18, 2009
Most recent Research / Statistics Stories