New cell phone technology prevents credit card fraud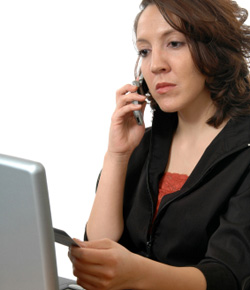 A new technology introduced by VerifySmart, a payment-processing company, will use cell phones and PDAs to protect consumers from fraudulent credit and debit card charges.
Under the new system, consumers will receive a phone or electronic message alerting them the moment their card is used. Before the charges are processed by the bank, the cardholder must authorize the purchase by entering a PIN number. Once this occurs, the transaction continues as normal. If the consumer does not respond or declines to enter a PIN number, no sale will occur.
As Canadian debit card fraud continues to grow, surpassing $95 million in 2006, creators of this new technology say the protections offered by the traditional PIN identification system aren't enough.
"Once a credit or debit card has been stolen, a seasoned criminal or fraud expert can quite easily breach required securities, assume an identity, and successfully execute several commercial transactions - at the expense of the card holder," according to the VerifySmart press release.
VerifySmart operates under the assumption that it's more difficult for a hacker to obtain repeated access to someone's cell phone than it is for the fraudster to discover a PIN number. According to the company, adding a verification process remote from the physical card will make each transaction more secure because the consumer can prevent charges despite card loss or identity theft.
Published September 23, 2009
Most recent Product Features Stories