Child care costs and debt: Stay home or go back to work?
Raising kids isn't cheap -- there's daycare, after school programs, lunches, field trips, summer camp, braces ... the list goes on. And, of course, this could all be on top of a mortgage, car payments and other personal debt.
The biggest expense, though, will likely be childcare, leaving parents with a big decision to make: is it better for one of them to stay home and take care of the kids or should they both go back to work?
There are so many factors at play, according to Rick Robertson, a finance professor at the University of Western Ontario's Richard Ivey School of Business.
"This is one of the toughest financial and personal decisions people have to make," he says. "You have to make an economical decision and it's not always so obvious."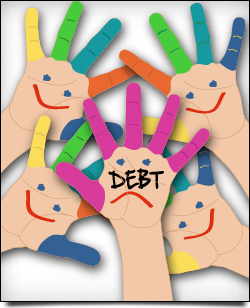 Here's what to keep in mind if you're mulling whether to stay at home to keep child care costs low or head back to work after paternity leave and pay for daycare or a nanny.
1. Your family's makeup
The number of kids you have and their ages are what first come to mind for Robertson. "If you have one child, that's much easier than if you have three kids," he says. "Then their ages matter, too -- a
toddler with two teenage siblings is very different from having kids that are
1, 2 and 3."
Care outside the home for a single child may cost you anywhere from $500 to $1,000, depending on where you live in Canada and what kind of child care you're looking for, according to Toronto-based certified financial planner Alexandra MacQueen. Obviously, two kids that need similar care would cost double that. Then, you may have to fork over extra for transportation costs if, say, you have to drive out of the way to drop off the kids at daycare.
Remember: work life is busy and parents need to cough up more money if they end up staying late at the office and can't pick up the kids.
"You have to ask yourself if you have family as a backup because things go wrong," Robertson says. "We always had grandma and grandpa -- we never used them much but they were always there and that made a massive difference in terms of flexibility and freedom."
Tax incentives, can take some of the bite out of daycare costs. Child care is tax deductible from the lower income earner's wages. If you're paying $12,000 annually in child care, it's like you or your spouse (whoever earns less) is making a $12,000 retirement contribution. It's subtracted from that person's taxable income, which decreases the cost of daycare.
But at some point, other options may make more sense financially -- whether it's staying at home yourself, hiring a nanny or asking relatives to help full-time.
2. Your income and career
MacQueen notes that while childcare is expensive, it likely won't eat up all of your income, depending on how much you were making before your parental leave.
"If you have two parents and both of them make more than $100,000 a year, then there's a good chance you can economically make it work if you both go to work and pay for child care," Robertson says.
That changes for couples earning less. "If the lower income spouse is making less than $30,000, and you have more than one kid, it probably doesn't make sense to go back to work," he explains.
There are long-term costs of leaving your job, to consider, too, though. "If I'm in my career making $50,000, I can expect to earn $10,000 more after five years but if I take a break, I won't be coming in at the $60,000 level," MacQueen says. "I'm not only forgoing my $50,000 salary, but I'm letting go of the career progression, too."
It also depends on the profession, the experts note. In some high performance jobs, such as lawyers or doctors, women take a "huge hit" by leaving their jobs for too long. So much so that some take abbreviated maternity leaves, MacQueen says.
Some parents bridge the gap by having one partner work part-time or even from home.
3. Your debt and lifestyle
The experts say that careful planning before starting a family could help determine if you have the choice to stay at home. Sometimes you don't have a say -- you need both incomes to prop up a mortgage, two cars and a pile of other debt.
"If you're lucky, you're making the decision and it's not being made for you by virtue of the choices you made before kids entered the scene," MacQueen says.
Try to live off of one salary in the months leading up to your little one's arrival. She says it sounds old-fashioned, but it'll lend perspective on whether you can make ends meet if you decide it's best to stay home.
Finally, be prepared for the possible cost on your psyche of leaving your children with someone else while you work. Many people are fine, but others are not. "People are taken by surprise at how difficult it is to return to work when you'd rather stay home with the kids," MacQueen says. "Child care is really expensive but the emotional part is just as crucial. I don't think there's a right answer that applies to everyone."
See related:
Bite-size financial tips for busy parents
,
Should you downsize your home if you're in debt?
Published March 18, 2015
Most recent All credit card news Stories