Chip credit cards reducing fraud, charge backs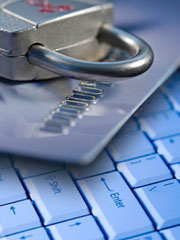 New findings show that the new chip credit card migration in Canada increases security and fraud detection, thus preventing charge backs. The new chip cards have already proved their success in preventing fraudulent transactions at the till.
The cards were created to address increasing merchant concerns over fraud and charge backs. Traditionally, credit card fraud has been a lucrative enterprise by criminals. The chip cards will address the $250 million that was lost to fraudulent activities in 2006, with growth at an alarming rate of 25 per cent annually.
Moneris Solutions revealed that merchants who accept the new chip credit cards are experiencing a lower-than-average rate of fraud. Moneris Solutions is Canada's largest credit card payment processor. "This is the first data of its kind from Canada and demonstrates that chip cards reduce fraud and charge backs," says Moneris
Capturing the fraudulent activity before it starts means fewer charge backs for merchants, and fewer worries for customers who have had lost or stolen cards.
The new cards have a microchip embedded in the card that stores the cardholder's account number. The cards and the chip terminals work together to ensure a secure transaction. The cardholder confirms the transaction with a personal identificaiton number (PIN) number at the terminal. Counterfeiting is stopped in its tracks, as without the PIN number, the card will be denied.
Figures reveal that those merchants who processed more than 40 per cent of their total daily transactions using the new chip technology have up to four times fewer charge backs than those who processed less than 40 per cent of total transactions using the older version.
Retailers said that they had 2.9 per cent fewer charge backs overall, while restaurants had 1.8 times fewer charge backs. Gas stations were not included in the findings, as they normally have fewer instances of fraud.
Sango Ligotti, director of marketing and communications at Moneris Solutions, addressed concerns by saying in an article in eCommerce Journal, "Not only does the data illustrate the importance of chip cards to merchants but it shows their tremendous value to everyone along the payment value chain, including cardholders."
Nearly one-third of all transactions processed overall are currently using the new chip cards. Ligotti stressed that the findings show that it was well worth the effort.
Moneris examined the data of 21,000 merchants. Of those merchants, 40 per cent to 95 per cent had processed transactions with the new chip technology during the September 2009 period.
The new chip cards arrive just in time for the holiday shopping season. Canadian merchants are eagerly anticipating the arrival of consumers with their new chip cards in hand.
Written by Melanie Dixon.
Published December 10, 2009
Most recent Legal, regulatory, privacy Stories