How to choose the best travel rewards card for you
If you're often hitting the road or taking to the air, a travel rewards card with perks ranging from rental car insurance to priority boarding can be a great asset.
But with so many travel credit cards to choose from, how do you pick the best one for your needs?
"Consumers need to try to prioritize what's important to them," Jason Heath, managing director at Objective Financial Partners, said in an emailed response to questions. "Some cards are specifically related to flights, whether you use points to buy flights or get on a plane quicker. Others can be used for hotel rooms around the world."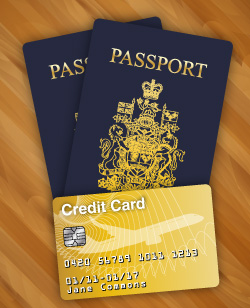 Travel rewards credit cards have many benefits - but they can also have some downsides. Here are some ways a travel rewards card can help you and some things to watch out for when you're thinking about adding one to your wallet.
Some perks of travel rewards cards:

Savings on travel: The biggest, and maybe most obvious, reason most people get a travel rewards credit card is to save on flights, gift cards, hotels and other trip costs.

If you're a big spender, you may even be able to pay for your entire family's vacation with points.


Bonus points: You often can earn extra points when booking with a specific airline or hotel that partners with your card. Or, you may earn even more points if you have a loyalty card and present it with your rewards card when you're booking a hotel room.

Often, travel rewards cards come with sign-up bonuses, too, helping you to jump-start your points tank.


Shopping portals: Travel rewards programs, such as Air Miles, let you double your points at certain retailers when using the card issuer's or airline's shopping portal. You may find some especially sweet deals ahead of the holidays.


Travel perks: To save you some added expenses -- and hassles -- when you're away from home, travel card perks often include luggage delay insurance, trip cancellation insurance, accident insurance and rental car insurance to offer you some peace of mind.
Watch out for these hang-ups:

Fees, taxes and surcharges: A so-called "free" flight can end up costing you a lot when fees, taxes and surcharges are included. In fact, these can sometimes amount to almost as much as your flight.

Some travel reward programs, such as Aeroplan, let you apply your points toward these costs, but even then it can prove costly. Depending on how many points you need to redeem, you may be better off paying for the fees, taxes and surcharges out of pocket rather than using your points.


Annual fees: Many travel reward credit cards come with annual fees, and some may be quite high. Do the math to make sure you'll get your money's worth with a rewards card with annual fees.

You may have to be a big spender to come out ahead with a card with a high annual fee. If it's not worth it for you, see if there's a no-fee version of the card, so you can still collect travel reward points without paying an annual fee.


Rules are subject to change: It may take you quite a while to accumulate enough points for a free flight, so it can be frustrating as a cardholder when reward programs change the rules. For example, the number of points needed to redeem for a flight may increase.

"Be sure to do some snooping about restrictions," said Heath. "That way you can tell if you're actually going to be able to use the rewards in the way you think you can."


Points can expire: Unused points can also expire, as Air Miles cardholders recently discovered.


Travel blackout dates: Some cards have blackout dates, usually around the holidays, when you can't redeem your points for flights.
So how best to find the best travel rewards card to fit your needs? Weigh the pros and cons of various cards and pick the one that packs the most perks and points for the trips you're most likely to make.
And when you do travel, knowing the details of your card's benefits (see your card's terms and conditions) can help you avoid some unpleasant surprises and expenses. If you have any questions about perks or points, call your card issuer before your next business trip, vacation or getaway.
See related:
7 secrets about credit card travel accident insurance
,
Is your credit card trip insurance enough?
,
How to save on foreign transaction fees
Published September 26, 2016
Most recent Airline / Frequent Flyer Programs Stories