Choosing a debit card for every life stage
Many Canadians prefer to use debit cards for everyday payments. But fees can add up so it's important to choose the right kind of account for your needs.
More than 96 per cent of Canadians have a bank account, according to the Canadian Bankers Association. With more than 100 account packages on the market, though, it's easy to see how choosing the right account can seem overwhelming.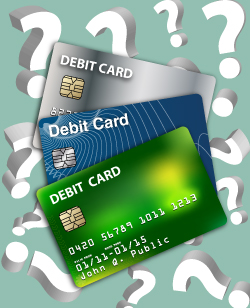 Author account: How my bank account has evolved with me

Canada.CreditCards.Com author Carmen Chai tells how her bank account has evolved as she's grown up, from starter account, to youth account, student account and beyond.
It can be more overwhelming as banks implement changes. In early 2016, Canada's major banks announced a laundry list of changes to their accounts, citing a weak Canadian dollar and shaky oil industry as reasons for the modifications. The changes include higher minimum balances to have monthly fees waived and an increase in other fees, such as those for cancelling e-transfers. These changes could affect your pocketbook, depending on how you use your account, so review your account, its benefits and its value to you.
Here's what to keep in mind in choosing the ideal debit card for your lifestyle -- without overpaying.
Fees
According to Brian McCabe, vice president of day-to-day banking and payments at Scotiabank, the point of banking fees is to offset the bank's costs for systems, personnel, and investments in security and technology.
Fees may not be a money drain if you consciously choose a plan that addresses your needs -- whether that means making do with the basics or getting an account with all the bells and whistles, says Pat White, executive director of Credit Counselling Canada.
"People say [banking] fees are just the cost of doing things and don't take time to go to the bank to do a comparison and analyze how much they use their debit card and for what," White says. "But it can cost you a lot of money."
This is especially true now that fees are rising. For instance, TD Canada Trust changed several of its fees in March 2016. The fee for pulling money out from a non-TD ATM rose from $1.50 to $2, and the cost of cancelling an Interac e-Transfer went from free to $5, as did the charge for holding a post-dated cheque. The transfer fee for moving your TD TFSA to another bank went from free to $75 plus tax. These fees are, of course, in addition to any monthly fees you may pay if you do not keep the required minimum balance in the account to waive them.
The Bank of Montreal's changes -- which come into effect May 1 -- include shifting consumers from a no-fee basic plan to a new Practical Plan that'll cost $4. The number of accounts included in the Practical Plan is changing from 20 to two, and anyone who doesn't qualify for the two-account plan will automatically be moved to a $10.95 Plus Plan.
The Practical Plan comes with 12 free monthly transactions; additional transactions will cost $1.25 each, up from $1. Across the board, BMO's plans are increasing by about $1 to $4.
Your age and life stage
Certain age groups tend to share common payment habits, according to White. For instance, teenagers and college-aged students typically rely less on cash or credit, and more on debit cards.
"They may have limited credit available and they aren't making larger purchases so that separates them from adults," she explains.
At the other end of the spectrum are seniors -- they rarely use debit or credit, but pay in cash for the most part.
Canadian banks accommodate people in distinct life stages. (See chart.)
"As customer needs evolve, we offer a range of account plans with additional features and services to help meet their growing needs," Mohamed Manji, vice president of everyday banking at TD Canada Trust, said in an emailed response to questions.
Factors at play for everyone
Every bank offers an account selector tool. McCabe urges consumers to put that tool to use (at whichever institution you choose to bank with) and to take the free advice offered by bank advisers.
In the meantime, White says there are some overarching factors that apply to most consumers.
Usage: If you're swiping your card often, you want to pick a plan that accommodates plenty of usage. Otherwise, you could be tacking on extra costs for every transaction above your limit. On the other end of the spectrum, if you're rarely using your card, it's worthwhile to research downgrading your current plan to a low-maintenance and low-fee plan.
Other forms of payment: Fees for ATM withdrawals and email money transfers add up. Some debit card plans allow you to make a handful of email money transfers each month for free, or to withdraw cash from another bank's ATM (typically only once a month) without incurring extra fees.
Minimum balance: Most debit card plans will waive monthly fees if you keep a minimum balance in your account. You'll need to weigh whether it's worth it for you to keep that minimum, though. In some cases, consumers decide they're better off investing that money or applying it to retirement savings.
However, if you need $3,500 in your primary chequing account at BMO to get your $14 Performance Plan fee waived, it might be worthwhile to transfer the funds over instead paying that fee 12 times a year. That's $168 saved -- more than what interest would get you in most savings and investment accounts for $3,500.
Perks: Rewards points and cash back are some enticing bonuses that could sway your decision. Scotiabank has its Scene points while BMO's debit card could get you Air Miles. Scotiabank also offers one per cent cash back on its Moneyback account.
Coordination: You may want to think about switching banks to be at the same institution as your partner or to have your debit and credit cards tied to the same bank, White says. Sometimes, convenience and streamlining your finances trump your other needs.
Bank accounts for different life stages

Minor child account

Student account
Senior account

Scotiabank

Getting There Savings: No monthly fee, unlimited debit transactions, interest calculated on daily closing balance and paid monthly. Eligible for Scene rewards debit card.
Student Banking Advantage: No monthly fees, unlimited transactions. Eligible for Scene rewards debit card.
Senior discount: $4 discount on any bank account for consumers age 60 and older.
CIBC

Advantage for Youth: No monthly fee, unlimited debit transactions, interest calculated on daily closing balance and paid monthly.
Advantage for Students: No monthly fees, unlimited transactions, international students also eligible with requested paperwork.
60 Plus Advantage Everyday Chequing: No monthly fee, unlimited transactions, free bank drafts and money orders.
TD Canada Trust

Youth Saving: No monthly fees, unlimited debit transactions, interest calculated on daily closing balance and paid monthly.
Every Day with Student Discount: No monthly fees, 25 free monthly transactions.
Senior rebate (60+): 25 per cent off any account.
RBC

Leo's Young Savers: 15 free transactions per month, tiered interest calculated daily and paid monthly.
Student Banking: No monthly fee, 25 free monthly transactions, up to $39 a year off annual fee for Signature RBC Rewards, RBC Visa Cash Back or WestJet RBC MasterCard.
Seniors' rebate: 25 per cent off any account, or up to $4, whichever is the higher amount.
BMO

Free or discounted accounts for kids and teens up to age 18.
Free or discounted accounts for students and recent graduates.
Free or discounted accounts for seniors. Practical Plan is free for seniors, comes with 12 monthly transactions.
See related: Why debit is riskier than credit, 5 ways to avoid debit card overdraft fees
Updated March 24, 2016
Most recent Prepaid / Secure / Debit Cards Stories